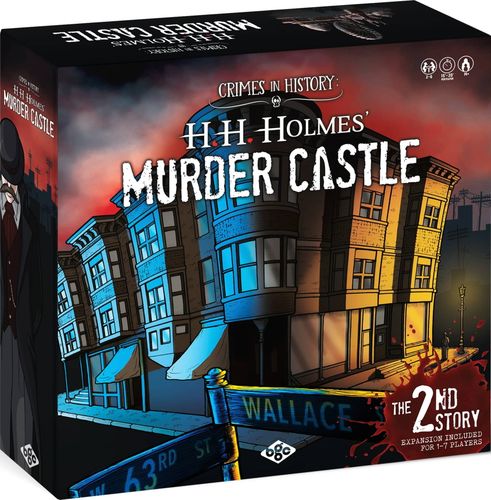 Before I begin, I was sent a copy of the game in exchange for an honest review. This is not a paid review. You can check out my video review below, and learn more about the game here.
One of the hardest things to create in board games, in my opinion, is creating a real feeling of horror/tension. Even one of my favorite games, Betrayal, while delightfully thematic, does not really feel tense. So when I got a chance to check out Murder Castle, I was intrigued. Here was a game that had some of the same board building elements of Betrayal, and promised to provide a real feeling of tension, so I was in!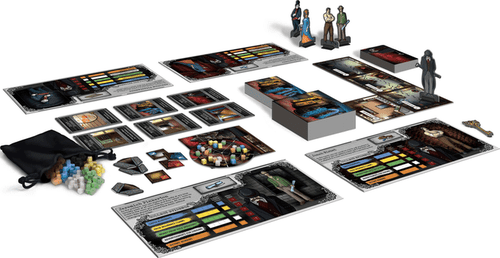 In Murder Castle you all play an investigator entering the infamous H.H. Holmes Murder Castle to find the evidence you need to convict the serial killer H. H. Holmes. As you play you will be collecting evidence to fill your track, avoiding Holmes who will be attacking you, and doing your best to make sure Holmes attacks your go players. The first player to collect all their evidence and get back to the entrance will be the winner.
Each round the players will select one of several actions: moving, exploring the castle, drawing an event card, collecting evidence, etc.. The player that selects the action will get to take a bonus action, while all the other players get to follow the first player taking the basic action. At the end of each round a card will be drawn that will give the player in control the choice of which room Holmes will show up in, if he arrives in a room with another player then they will get struck, and drop some of their evidence.
Advert

So what do I think?
Delectable
Advert

I like the art on the game, it has just a hint of whimsy to what is a dark theme, and I think it works. The core mechanics of exploring the house, feels very much like Betrayal, and just like it works there, it works here, along with that the way you get to follow that actions of other players works quite well. I also enjoy the evidence placement in the game. As you explore a new room that player gets to place the evidence in the room, though the twist is they have to select from a limited supply, which is ever changing. It is very, very clever, and perhaps the best part of the game.
Tasty
Advert
This is a very solid production. Chunky tiles, solid insert, and lovely minis. The solo mode is also a nice bonus to this game, it is an interesting puzzle, though it does lose some of the stronger elements of the multi-player game.
Edible
This game gets stronger and stronger the more players that you have, this might make it a little more challenging to get to the table.
The biggest thing to know about this game, however, is the theme of the game. This is one of those things that might be a total turn-off for you, or it might not bother you at all. You see, this game is based on a real serial killer from history. To be clear the game does not try to hide this, but it is just something that you should be aware of, you may or may not want to play a game about a real murderer.
Bringing it all together
H. H. Holmes Murder castle is a game that is reminiscent of the Betrayal series, but with a lot more cut throat action. The production is very very solid, and the more players you have the stronger the game plays. Some of the core mechanics are delightful, particularly the evidence placement mechanics. This is probably not a game that will stand as only a solo game, but it is a nice bonus if you are going to be able to play at higher player counts. Do note that this game is based on a real murderer from history, and that may or may not be something that you enjoy.
Gotta find that evidence, no time to read!
* Strong production value
* Fun mechanics for building out the castle, placing the evidence, action selection and moving Holmes are all very satisfying
* The game certainly creates a feeling of tension
* The solo mode is a nice bonus, but does not stand on its own
* The game plays better with more players, as it allows for more action with the following mechanics
* The game is based on a real murderer, so that might be a turn off for you