The Hungry Gamer Reviews The Abandons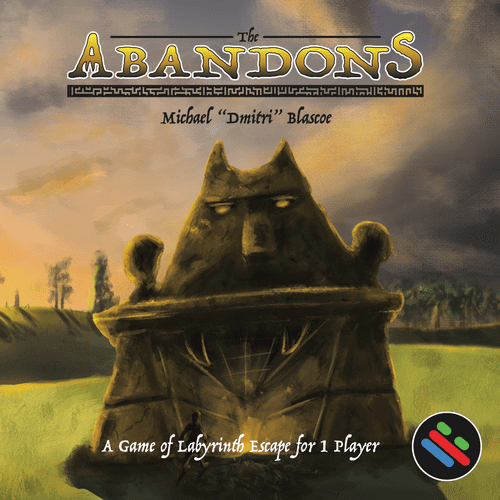 Before I being, I received a copy of this game in exchange for an honest review. This is not a paid review
If you would prefer to watch this review you can do so below
There are two types of game that I really love. One is, any kind of Dungeon Crawler, and the other is games with a solo element to them. What can I say, I am that kind of nerd that will sit down and play a game all by my lonesome. With that being said, I was pretty pumped when I learned The Abandons was coming my way. I had a vague memory of looking at it on Kickstarter when it was funding, but for whatever reason did not back it…most likely because I back too many games on Kickstarter and I am trying to cut back. 
Advert

I won't spend too much time on how the game plays, but it is quite simple so let's do a quick rundown. You start at the beginning of a labyrinth, with the goal being to find out way back out. To do so you draw cards, based on the symbol on the exit you are going through. The last card you draw is the room that you are entering, and all the other cards are discarded. These discards are important because your goal is to reach the bottom of the deck, as that is where the exit card is.
If you wind up drawing a dead end, you have to turn back and go down a path that you have not explored before, if there are no paths remaining then you are trapped in the labyrinth and, one would assume die a slow death after you go insane. Cheery stuff!
Advert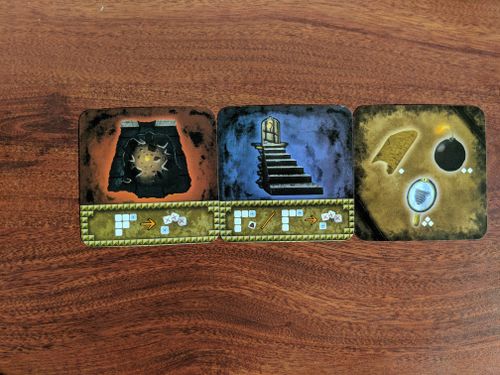 The only other variant is that there are several special cards that you can find. These are the item cards, the collapsed hallway, and the stairs. The stairs give you the OPTION to move up to another floor, and clear all the already played rooms, the collapsed hall does virtually the same things, but you have no choice, while the item cards give you either a map, a bomb, or magic mirror-depending on how many cards you are turning in. The bomb, lets you blast your way through a dead end, the mirror lets you clear the map and start over, while the map allows you to look at the top three cards of the deck and return them in the same order.
So what did I think?

The Good
Advert
I dig the theme of the game, and it does succeed with its premise of making you feel like you are wandering around this labyrinth trying to find your way out. I also love that it is incredibly portable, the entire box easily fits in my hand. The rulebook does a very good job of explaining how the game works, and it takes under five minutes to learn how to play.
On that same note, each game maxes out at 15 minutes. When I first received the game, I busted it open, learned how to play, and played three games in under half an hour, and really enjoyed myself. You cannot beat that!
The Middle
The cards are of good quality, but I am a little disappointed with the art on them. There is a lot of sameness to them, and though, as I said above, it does help with the theme of this empty maze, I think there could certainly be some variance to the artwork. There are a couple of cards that are cool, but overall they are just fine.
I also think there is a single slight miss in regards to the theme. I do wish that there was a goal in the maze. The story tells you that the voice is calling you to the Abandons, but it would be nice to FIND the source of the voice, and then try to get out. That would likely make the game harder, and a little longer, but it would increase the replay value.
The Bad
I think this is a solid, light, solo dungeon game. I do not have anything bad to say, other than it COULD have a little more variety. I suppose I could add that it is possible to be a bit of a sprawling game if your card draw is unlucky enough.
Bringing it all together
The Abandons is a fun solo dungeon exploration game. It does a good job thematically and certainly delivers on its promise of the length of gameplay and portability. I wish there was a little more variety of artwork, and perhaps a bit more complexity. I also think that for the type of gamer that likes to do this kind of thing, this game can easily be "ported" into other games. This would be an awesome tool to use in an RPG game, to explore a maze. That is not what the game was intended for, but it is well done enough that it certainly could be.
Dying of starvation in a mysterious maze is more fun than reading all that
*Fast, fun, simple
*Inexpensive
*Delivers on the thematic promise of a solo delve into a maze
*Inexpensive
*Highly portable
*Could use a little more complexity
*Art is a little repetitive but solid
*Great potential tool for RPG players

The Hungry Gamer Reviews The Abandons
Overall - 75%
Portability - 100%
Ease of Play - 85%
Art - 70%
Theme - 75%