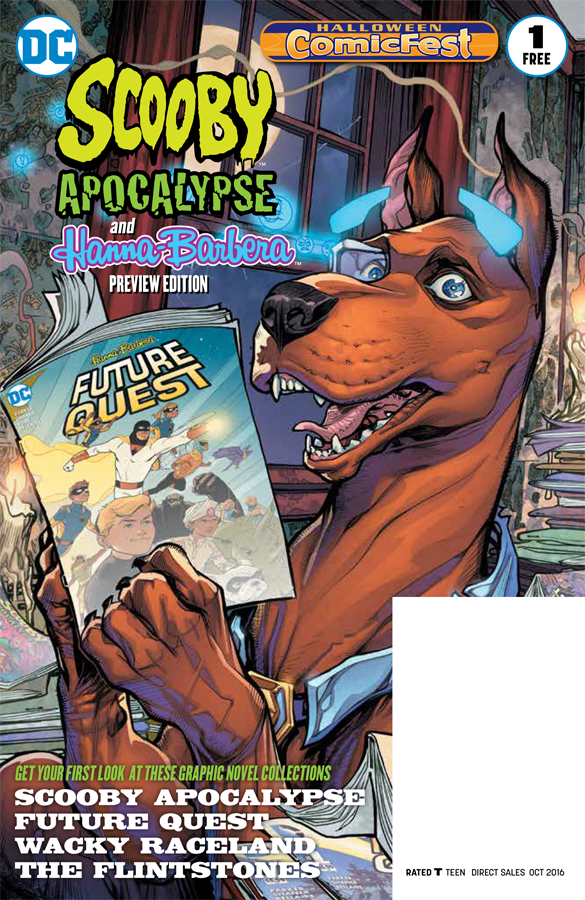 I recently had the opportunity to get my hands on the Scooby Apocalypse and Hanna-Barbera sampler from this years Halloween ComicFest, and have to say that I rather enjoyed it. The issue, which you can pick up atyour local comic book store, featured a sample of Scooby Apocalypse, Future Quest, The Flintstones and Wacky Raceland.
Scooby Apocalypse:
"A fresh new take, For a new generation," well it is exactly that. As a long time fan of Scooby and the gang I was very hesitant to read and worried about how the characters would turn out. I was actually pleasantly surprised at how well the characters were portrayed through the writing.  I did not really care for the new looks of Shaggy and Fred, but that is just me.  I did not mind the new take on the gang in this short sample, I have to say it was a fun lead into what could be a fun twist on classic Scooby.
Those meddling kids—Fred, Daphne, Velma, Shaggy and their dog,
Scooby-Doo—get more ghost-debunking than they bargained for when
faced with a fundamental change in their world. The apocalypse has
happened. Old rules about logic no longer apply. The creatures of the
night are among us, and the crew of the Mystery Machine has to fi ght
to survive—because in the apocalyptic badlands of the near-future, the
horrors are real!
Written by
KEITH GIFFEN AND J.M. DEMATTEIS
WITH JIM LEE
Art by
HOWARD PORTER
Character designs by comics superstar
Advert

As a life time fan of the classic Hanna-Barbera characters I have to say I am really looking forward to Future Quest.  In Future Quest we will get to see some of our favorite classic characters such as Jonny Quest, Space Ghost, The Herculoids, Birdman, Frankenstein Jr., The Impossibles, and more come together for one goal, to stop "a dangerous villain who threatens the galaxy." The short read of this sample has some of that classic Jonny Quest feel that I have grown up loving. The writing and art are perfect. I have to say I cannot wait to get my hands on Future Quest now!
Written by
JEFF PARKER
Art by
EVAN "DOC" SHANER
and STEVE "THE DUDE" RUDE
When the adventurous and inquisitive Jonny Quest and his adoptive
brother Hadji make a startling discovery in the swamplands of Florida,
they are pulled into an epic struggle between the Space Rangers
and a dangerous villain who threatens the galaxy. Now it's up to the
combined forces of Jonny Quest, Space Ghost, The Herculoids, Birdman,
Frankenstein Jr., The Impossibles, The Galaxy Trio and Mightor to stop him
and save their universe!
Advert

I really was not sure what to expect from the ne Flintstones comics, so I am glad I read this sample. I was pleased with the art, has that classic look I loved from the show, and the writing gave me that feel from the show as well. The sample is pretty short so not much of a story could be formed, but from what I read I will defiantly be going out to get a copy of the issue to read.
Welcome to Bedrock, where Paleolithic humans head to dinner for a taste of artisanal mammoth after shopping at Neandertall & Big Men's Clothing, where Wilma shows her modern art, and where, if you take a plane, you could literally end up sitting ON the tail section. Join Fred and Barney as Mister Slate sends them on a mission to show some Neanderthals a night on the town in hopes of luring them into this new system called "working for a living." In Slate's Quarry, of course. Is Fred's ship about to come in? Find out when the gang finishes out the evening at the employee hot tub party, where they learn how the one percent lives here in Bedrock, home to the world's first civilization and the modern stone-age family—The Flintstones. Don't miss this extra-sized debut issue!
Advert
Ok, I really was not sure about this one. I will say that Penelope Pitstop is a bad-ass, and if you are into that "post apocalyptic" style then you should really give Wacky Raceland a read. The art and writing are well done, and defiantly bring the style of word to life.
The world has ended, but the race has just begun! Penelope Pitstop, Peter Perfect and the rest of the Wacky Racers vie for the finish line in a contest where the winner takes all and second place is death. Today's trial: the shattered maze of freeways known as the Überpass, where they're beset by giant sand beasts, mutated insects, and worst of all, Dick Dastardly's murderously poor sportsmanship. The last thing they need after surviving the race is a brutal bar fight in a local dive, but that's just what they get!.
Overall I will have to say that this sampler has done it's job very well, and I will be going out and picking myself up Scooby Apocalypse, Future Quest, and The Flintstones, I may end up picking up Wacky Raceland to give it a full shot as I was not sure about it from the short sample.
To see what issues you can check out this Halloween ComicFest head our to their website.
Overall
Overall - 9.5
Scooby Apocalypse - 9
Future Quest - 10
The Flintstones - 9
Wacky Raceland - 7.5
9
Halloween ComicFest Scooby Apocalypse and Hanna-Barbera Sampler
Overall a great read, defiantly worth picking up at Halloween ComicFest. If you are like me it may even have you picking up a few full issues.