FIVE POINTS FEST: DESIGNER TOY AND
ART CONVENTION
DESIGNER TOYS + KAIJU + COMICS + STREET ART
+ BEER + LIVE PAINTING
DESIGNER TOYS + KAIJU + STREET ART + BEER + + LIVE PAINTING //
JUNE 1-2, 2019 // BROOKLYN EXPO CENTER
Last weekend was the third annual Five Points Festival curated by Clutter Magazine and fueled by Lagunitas Brewing Company. This year the festival returned to Greenpoint at The Brooklyn EXPO Center.
This awesome two day event featured designer toys, original art, Kaiju & Sofubi, craft beer, food trucks, live-painting, street art, patches & pins, comics and more!
Exhibitors consisted of many creators, brands, and retailers with lots of goodies!! You could find loads of vinyl and plastic toys, original art, resin, plush, blind boxes, graphic novels, indie comics, blanks, minis, kaiju, Japanese vinyl, posters, prints, and even apparel! Outside the convention in the courtyard you could find craft breweries, live- painting and a variety of food trucks. I met so many talented creators, here are some creators to check out!
Artist to Check Out:
Fustamps: Rios Palante
Bodega Blade is the tactful leader of the FU-Crew, a gang of teens obsessed with martial arts, and cleaning up the streets from punk-ass-scum!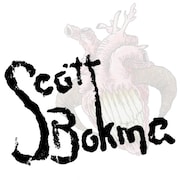 scottbokma
Morbidly tasty twisted goodness
Creepy Monsta
Curves and Bullets: Rolo Ledesma
ROCK & ROLL BIOGRAPHIES TOOL (Where Metal Rules)
Michael Aushenker (A/CA) Rolo Ledesma
Discover one of music's most twisted bands formed – Tool. Four opposites that came together to form a new genre of visionary music. Dominating the 90's with a distinct sound and vocal style TOol would soon have troubles and challenges to face like never before.
Matt Miner
Comic book writer Lab Raider
* Limited Variant Cover to support Redemption Rescues pit bull rescue!
Matt Miner (A/CA) Creees Lee
A pair of young vigilantes break into a black market laboratory where illegal tests are being run on animals. What at first seems like a simple rescue mission becomes more dangerous when they stumble on secret military experiments, discovering to their horror that the animals they sought to help have been turned into something different, something monstrous… and, once the cages are opened, the rescuers quickly become the prey of these weaponized beasts. This high-octane action comic blends vigilante heroics with sci-fi horror for a brutal new adventure.In Shops: Jun 19, 2019https://www.previewsworld.com/Catalog/JAN191662https://mattminerxvx.com@mattminerxvx
Big C art
ZazatoyBox
I had a blast geeking out and checking out all the cool Merch.
I snagged a bunch of goodies, and chatted it up with some super cool artists. Till next year!!