At the time of this review's posting, Batman v Superman: Dawn of Justice has earned 682.8 million dollars worldwide.
Initially, I was not going to review this movie since I had such a positive review for the critically confused Man of Steel film. It should be noted that MoS only earned 668 million USD at the worldwide box office.
Meanwhile, Superman Returns did not even crack 400 million.
Anyway, in the weeks following, this film has gotten mixed to bad review from ScreenRant, CinemaBlend, AgressiveComix, Collider (formerly AMC movie talk), and most famously RottenTomato, which has BvS at 29%. Meanwhile, Ben Affleck's Daredevil is at 44%.
Here's the problem. It is not all that bad. I mean, let's take a look at Age of Ultron, which was nothing more than fan service and cheap one liners and has a rating of 75% on RottenTomato. Personally, I ate that up and went to a day long marathon to watch AoU.
Advert

Here, though, we have a world with only one, maybe two, superheroes dealing with the aftermath of an alien invasion. Real aftermath, none of the Agents of SHIELD, one season nonsense. In the very beginning, they deal with how Batman saw it, how the world reacts, the positive and the negative, and the rebuilding.
There were real ideas from the characters that worked in a way that was just amazing.
Alfred, who has consistently been praised, no more so than in Collider's review. But he is the lighter side of things with jokes that a lot of critics seem to miss. He makes the jokes from the 90s Batman the Animated Series and from The Batman about how Bruce needs to settle down. However, he also brings the cold, sobering side of an MI6 agent who was a field medic in the British military. When he is saying Superman is not their enemy, he is not a butler. No he is a soldier who knows something good when it is there.
Advert

Lois Lane, who was relegated to just being a woman who said she was a Pulitizer Award winning writer in Man of Steel, does so much more. Getting caught by terrorists only to have Jimmy Olsen killed! Don't
believe me. Check imdb! Jimmy Olsen died in the beginning of the film.
Anyway, Lois is actually investigating, reporting, and more than just a love interest. On the other hand, she is every but the love interest Superman needed. When faced with the idea of being the hero, she does nothing but push him to strive to be the hero she knows he can be. She is the being that grounds the hero. In a way, it is reminiscent of Smallville's finale when Lois worries she is going to ground him, and it is her cousin, Chloe who says, "And when he finally does to decide to take to the skies, he's gonna need you to ground him."
Advert
Lois was nothing but impeccable as a character.
Then we have Martha. Diana Lane has he same problem that Sally Field had in Amazing Spider-Man 2. She's a two dimensional character. There is not much to her other than a supporting mother. However, in that, she does succeed in being the most amazing mother she can be by being the woman who is there to comfort her son.
Perry White is…well…Perry White. He is much improved on the man who is just yelling at Lois in the first film. But he is what he is, a Newspaper editor trying to run a business.

Now, Lex Luthor. Jesse Eisenberg is something. I cannot say what but he is something. He comes off as creepy. Sure, there is a brilliance here, but much of what has been said about him from Angry Joe to Lanipator from TeamFourStar both pointed out he was a major weak point for the film.
Batman has almost consistently been agreed to be an amazing Batman, from his detective work on finding the Kryptonite, to his relationship with Alfred, being affected by the death of his Robin, and so on. Ben Affleck proved everyone wrong on the Batman everyone thought would not work when his casting was revealed years ago. He is every bit the Batman he has been offering since the Comic-Con Panel of 2015.
This is a broken Batman, one who is taking shortcuts because of his age, one who is broken mentally and physically, but sees no way out of things except to keep doing what he has been doing for years. This is one who is afraid of a god on Earth who does have the power to wipe out humanity. When Batman has trusted anyone, but Alfred, he has lost so much. He practically shouted it when he pointed out how many good men in Gotham were left.
It's a character that not only works, but its something new and different enough from Christian Bale to say this is a Batman worth seeing.
Now, here is where we get into the meat of things.
Superman is the very heart of this story. In fact, based on how Chris Terrio and Zac Snyder wants to form the DCCU, it's clear he is the very heart of this world. It is much the same way how Marvel made Robert Downey Jr the center of his world.
Here's the problem and the character in entirety.
This is a Superman that the world sees as a god, not a man. They are so intent on making up their minds based on what they see and hear from others like a Senator or like Lex. They do not want to see the good he is doing.
Because no matter how much good he seems to do, from catch spaceships, to saving flood victims, to even presumably helping clean up the Kryptonian attack, no one wants to look at him with the same eyes as they would anothe person. No, instead he is this godly creature, a divine being from on high who must be perfect. If he is not doing everything to make everyone's lives better, it is not good enough and he is villified as such.
Now, for a while after (and during) my viewing of the film, I wondered why Superman had not answered most of them. Instead, he just went about helping people silently, like a god from on high. Then, it recalls some of what happened in Man of Steel.
The infamous scene where he is in the the church talking to the priest. To which, some, including Doug Walker the Nostalgia Critic, thinks it makes more Jesus and God analogies. To which, I will be addressing later.
Anyway, Superman explains he does not have trust in people. The priest replies with, "Sometimes, you have to take a leap of faith. The trust part comes later."
Superman is a being pouring his faith into humanity. He's trusting people to give him a fair chance, to be given the shot at being its hero.
Instead, the world, Batman included, make up their minds because they are afraid.
But that's the point. That is why Superman is frustrated and that is why Diane Lane's scene with her telling him to be what he wants to be.
"Be their hero, be their angel, be their monument be anything they need you to be. Or be none of it."
If the world does not have faith or even the trust in him, why should he continue to be our guardian?
It's a problem that only Superman can have since Marvel's world literally trusts Thor implicitly.
That's ultimately the problem though. Superman is not perfect, nor is he a boy scout. As Henry Cavill often points out, this is not a completed Superman. This is his journey. He is not Christopher Reeves' Superman, but he is one man who is trying when the whole world is watching and throwing in its own two cents. He is doing what he knows to be right even when the whole world will not believe him or listen.
That's what Superman does.
The movie is not without fault. It has a pacing, and dialogue issues. Terrio and Snyder clearly had a vision of seeing heroes fight, and after a while that is all it comes down to. That makes the average movie-goer less than invested in this than someone who has grown up loving these heroes.
I will say that every vision in the movie was 'fun' for comic book fans, it is downright confusing to those who are more casual fans of DC.
The motivation for Lex Luthor was pathetically weak. It is hinted that he did this because his dad hit him so he hates people bigger than him. And he was somehow responsible for everything. As if we didn't have enough reason to hate him.
The clash between heroes was built well only for it to be forced at the
end. Had they let it been just their ideologies, had it been just their passions that pit them against one another, it would have flowed more naturally.
Instead, it felt like they were shoving another story line or two into it to keep audiences interested. All it did was bore those in the room.
And then, there were Superman's best line in the movie. "This is my World. You are my world. I love you." Those words with the song This is My World playing. Lord, that was powerful. I mean that. It was such an amazing moment to see. A moment with so much emotion and power to fly at an audience, it was clear some tears were actually shred for Superman.
Its problem is it burned its hand too soon.
While removing Superman is a newer idea for the movies, that most didn't see coming, it still creates a new problem. When he comes back, it removes the threat or fear of death. Too often people believe Superman to be all powerful. And yet, they kill him knowing he will come back. And they did it on Good Friday. Sweet heavens the Jesus-Superman connection is made ridiculously easy now.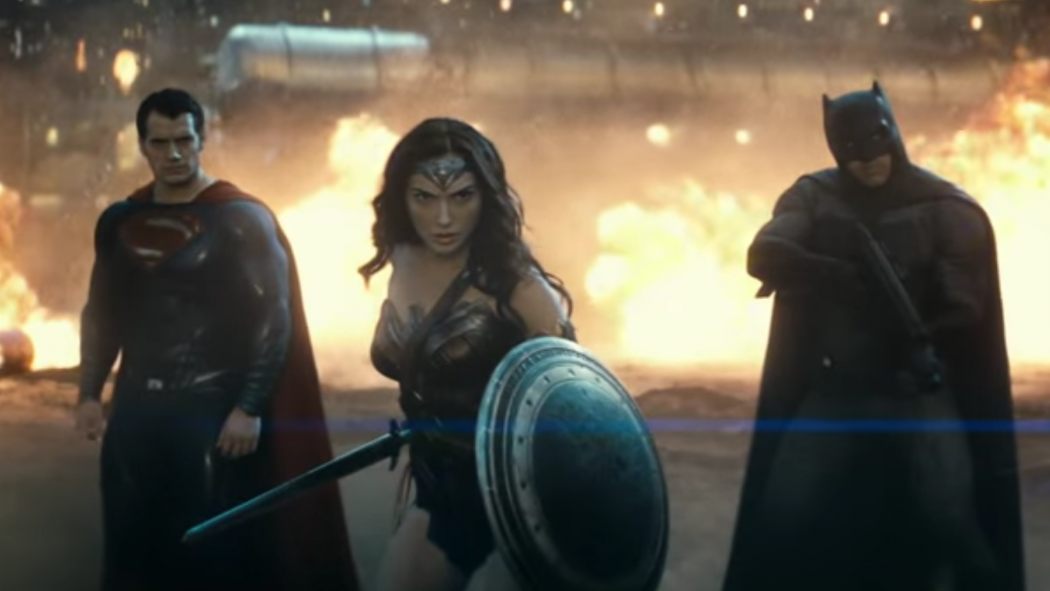 So many good ideas and so much potential was had and wasted in this movie.
Now, is it a masterpiece? No.
Is it lower than 2003's Daredevil? Not on Zac Snyder's life.
This movie was feasible. It's worth a watch for any who have not seen it. But this movie shows more than ever some glaring problems with the DCCU.
Snyder needs to stay the hell away from Superman. Both he and Henry see the aspects of the god that is Superman, but his human, even more noble side is lost in translation.
The writing needed some tune up, and it does not make me excited for Justice League. Snyder can shoot some visionary fight scenes, but he should not be allowed to be in charge of any story.
What this picture has done is that it has shown the the problems with RottenTomato as there will be an inquiry about its rating system seeing as every time Marvel cracks a one liner, they lose their cool. It shows that there are things fans do want and deserve to see. It shows that action without the right story leaves fans empty.
But it also shows a story of faith, brotherhood, and comradery. It shows what happens when two people who have different ideologies can be brought together.
Also, for anyone complaining about the Martha thing, get out. I mean that, get out. His parents' deaths have always been crucial to the Batman story. And the fact that is was a HUMAN mother that showed Batman that Superman was human was actually clever of Chris Terrio, so get out anyone who complains.
I mean it. Leave.
Otherwise, have fun movie-goers.