If you are a fan of tabletop games, steampunk, or card games you will not want to miss out on Hero: The Card Game!
HERO is a game of recruitment and sky battle. As Elders, train up a new generation of Ghostwalkers. Narnia & The Last Airbender meet steampunk–merging modern tabletops, deckbuilders and TCGs together to bring diverse gamers to the same table. Your fate is your choice.
Following extensive worldwide playtesting to refine the game, HERO: The Card Game will launch on Kickstarter as a fully completed game for 2-4 people, with finished art & design work and no need for booster packs. The Kickstarter campaign features the game for $17. The game is being produced fully in the USA and hard copies are only available to US backers. US production & shipping ensures that backers will receive their copies of the game within months, not years. In addition to this, backers at all tier levels (including international gamers who pledge at a lower tier for $1) will receive two fully completed digital copies: a print-and-play and a Tabletop Simulator version (Tabletop Simulator Software not included).
Draft Your Team, Build Your Engine, Train with Explosive Hidden Abilities…Create a One Turn Win
HERO is a tactical engine-building card game that puts on display the sky-battles of the heavens for all to see.
Explosive Hidden Abilities, Decisive Drafting, Way OverPowered Heroes (OP), and One Turn Wins (OTW).
No life points. No victory points. No boosters.
Know Your Opponent. Know Yourself.
Advert
Cataclysm after cataclysm. Earth has been renamed Tempo, and a new cast of heroes from the multifarious cultures of a broken world have arisen readying themselves for the next crisis to come.
As Elders, players train up a dystopic menagerie of new recruits. This new generation of Ghostwalkers battle it out in the skies of eternity. But, as with the heroes of yesteryear, death is elusive. What appears to be sure defeat more often than not is but a temporary setback.
Start by drafting your abilities and a lone starting hero to protect your SkyBase. Each turn, choose one of four actions listed in the title acronym: Heal, Enhance, Recruit, or Overcome. Draft your team, build your engine, train with explosive hidden abilities, and – when the timing is right – unleash a sudden One Turn Win.
Number of players: 2-4; 4-player includes options for both free-for-all and team play
Time required: 45-60 min
Recommended ages: 14+
What sacrifices are you willing to make to defeat your opponent's SkyBase?
​
Advert

Heal fatigued heroes
Enhance heroes with stats and abilities
Advert

Recruit a team………….. ………………..or not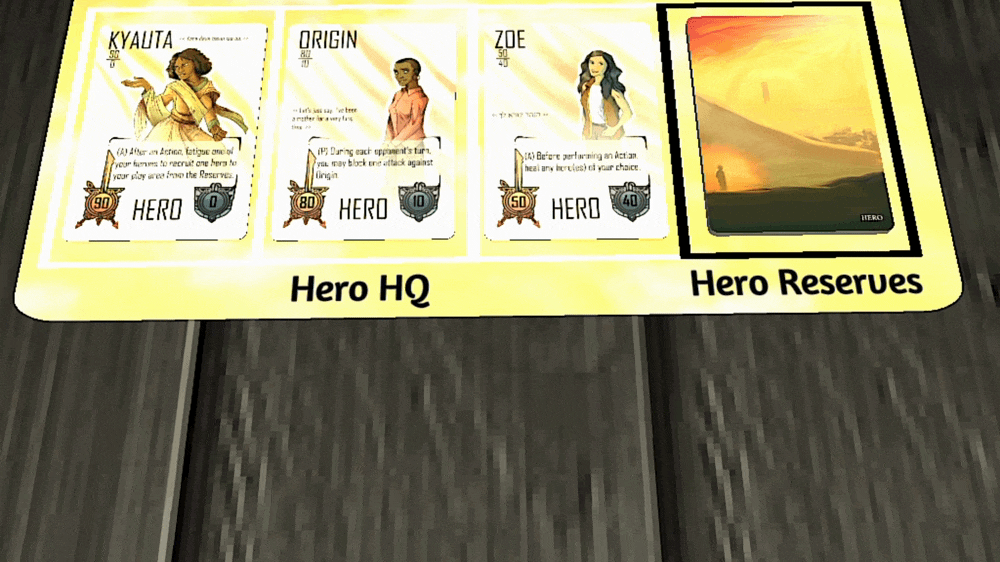 Overcome opposing heroes and their SkyBase(s)
Advert
A Standalone Game in One Box for 2-4 players
100 majestically designed cards including 20 heroes, 24 abilities, 4 SkyBases, 4 sets of 12 Statistical Bonuses, and 4 Reference Cards
High Replayability with a Shifting Field, Dynamic Hero Options, and Varying Deck-Builds
Build your deck after Game 1, your choices set your fate (from a common pool of cards)
1 v 1 / 2 v 2 / Free-for-all
No booster packs (aka loot boxes) that burn the wallet.
Play-to-Win (not Pay-to-Win)
Future expansions possible that will carry their own weight in value.
HERO draws upon humanity's innate sense of passion, intellect, wisdom, risk, self-sacrifice, teamwork, and perfect timing.
In a world where monsters and dark magic are at the heart of competitive gaming, HERO brings light to the table.
FUN!!!
G. Wesley Cone – father, pastor, teacher, and now game designer has launched HERO: The Card Game on Kickstarter. Head over and learn more!
Website: https://www.anthemcreations.com/
Facebook: https://facebook.com/groups/HEROTheCardGame
Twitter: https://twitter.com/HEROTheCardGame
Instagram: https://www.instagram.com/HEROTheCardGame/