If you are like us then you may not have heard of this game, but after watching this new 17 miute long gameplay trailer you will be excited. Have to thank the folks over at GeekTyrant for this one, as now we have another fun looking game to get excited about.
Game Information:
Space Hulk: Deathwing
Console game
Space Hulk: Deathwing is an upcoming first-person shooter developed by Streum On Studio with assistance from Cyanide and published by Focus Home Interactive. Wikipedia
Initial release date: December 9, 2016
Publisher: Focus Home Interactive
Genre: First-person shooter
Platforms: PlayStation 4, Xbox One, Microsoft Windows
Developers: Streum on studio, Cyanide
Modes: Single-player video game, Multiplayer video game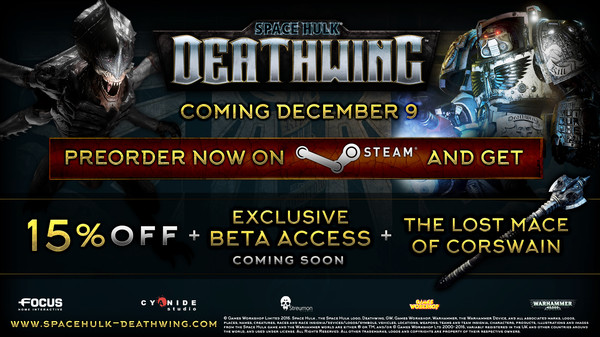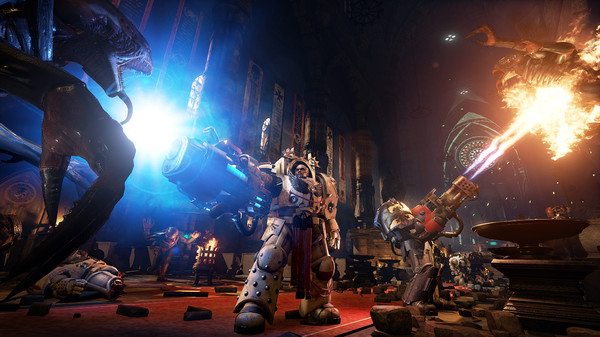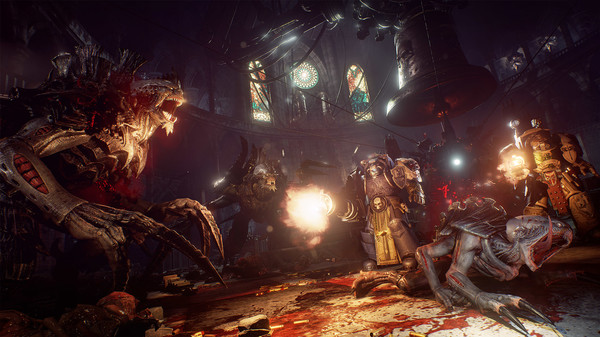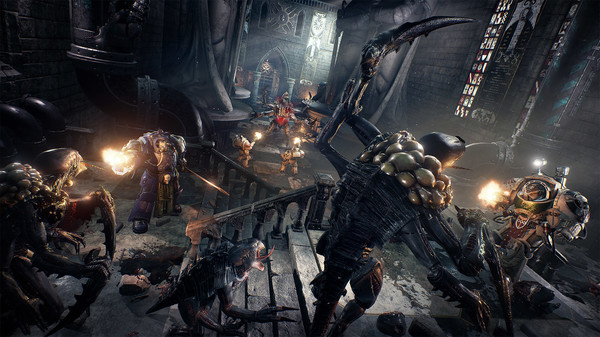 Game Information From Steam:
PRE-PURCHASE OFFER


Pre-order Space Hulk: Deathwing for the upcoming Beta, as well as a 15% discount and in-game weapon The Lost Mace of Corswain.

ABOUT THIS GAME

Space Hulk: Deathwing is a First-Person Shooter experience based on Games Workshop's classic Space Hulk boardgame set in the universe of Warhammer 40,000. Space Hulk: Deathwing was developed on Unreal Engine 4, and offers you and up to three of your friends the chance to experience a desperate battle against Genestealers in the claustrophobic tunnels of a Space Hulk. You also gain skills, new abilities, and new equipment as you earn experience during missions.

Space Hulks drift along the currents of the Warp, the immaterial dimension of Chaos. Made up of gigantic, mangled asteroids, ship wrecks, and other stellar debris, they can grow to the size of a moon, and often contain treasured and ancient lost technologies. They are often also infested with broods of the lethal Genestealer.

In the game you take on the role of a Space Marine from one of the most secret and most feared Space Marine forces: the Deathwing of the Dark Angels Chapter.

As a Librarian, you can also master the destructive powers of the Psykers. Your skills and performance in battle grant you Fervor Points to spend on 3 skill trees, allowing you to improve your abilities and unlock new powers.

Don your Terminator armour and arm yourself with the iconic weaponry of the Space Marines and face the threats that await you in the Space Hulk.

KEY FEATURES

Take on the role of a Space Marine Terminator from the most secret and feared Deathwing.
Plunge into the claustrophobic tunnels of a Space Hulk. and experience a desperate battle against the Genestealers.
Unlock new abilities through 3 skill trees.
Grow in power and weild devastating weapons.
Coop mode: play with your friends as a Terminator squad in an epic coop mode

SYSTEM REQUIREMENTS

MINIMUM:

OS: Windows 7/8/10 (64-bit)
Processor: Intel Core i5-2400/AMD FX-8320
Memory: 8 GB RAM
Graphics: 2 GB, DirectX 11, AMD Radeon HD 7870/NVIDIA GeForce GTX 660
DirectX: Version 11
Network: Broadband Internet connection
Storage: 40 GB available space
Additional Notes: INTERNET CONNECTION REQUIRED FOR THE ONLINE GAME

RECOMMENDED:

Additional Notes: System requirements to be announced soon.

Space Hulk – Deathwing — Copyright © Games Workshop Limited 2016. Space Hulk , the Space Hulk logo, Deathwing, GW, Games Workshop, Warhammer, the Warhammer Device, and all associated marks, logos, places, names, creatures, races and race insignia/devices/logos/symbols, vehicles, locations, weapons, teams and team insignia, characters, products, illustrations and images from the Space Hulk game and the Warhammer world are either ® or TM, and/or © Games Workshop Ltd 2000-2016, variably registered in the UK and other countries around the world, and used under license. All Rights Reserved. All other trademarks, logos and copyrights are property of their respective owners.