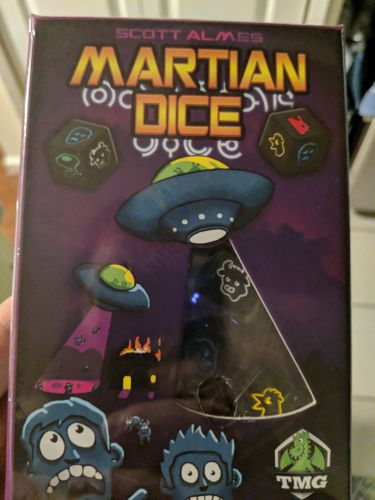 Before I get started I received a copy of Martian Dice in exchange for a review. This is not a paid review.
Lately I have been receiving various games to review. Let me say that that is super cool! You might say "Out of this world!" (get it? See what I did there?). This weekend I received a copy of the light push-your-luck Dice roller Martian Dice. Once I got over the excitement of receiving a copy of a published game, I busted it open and got to it! As always, I will not spend much time on the mechanics of the game, since there are plenty of reviews and how to plays out there that already do that (though you can watch my video review if you do want to see how to play.)
Advert
The Good
This is a delightfully goofy game. The idea that you are Martians attempting to abduct chickens, cows and humans because you are not completely sure who controls the planet is a laugh. I am a fan of push-your-luck games so this type of game is right up my alley. It does not disappoint. This game is fast to learn and fast to play. I am probably exaggerating when I say that it took me three minutes to learn how to play this game, and then to play a two person game it took about 10 minutes. 
I think the box art, and the dice themselves are well done, I really could not ask for much more from them. (Well they could be like the dice you get in a Chip Theory Games game, but that is asking a bit much 😉 It does a good job of evoking the theme of the game. I also think the rules are very well written. They are concise but they do not leave anything out.
Advert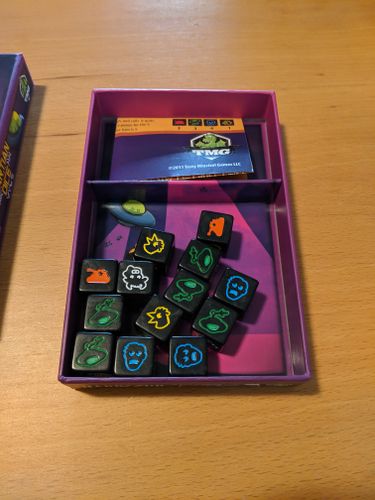 The Middle
As I have already mentioned this is an easy game to pick up and play, that is good. However, it is so simple that there is simply not much to it. This is not a game that you are going to spend a lot of time playing. I think that is as intended, but for someone looking for a complex push-your-luck dice game a la Reckoners or Elder Sign, they will be very disappointed.
The Bad
I think they have missed a big opportunity to include a way to track score IN the box. It is fine that you have to use a piece of paper and pencil to track your score, but how cool would it be to have dial trackers that look like flying saucers? I think pretty cool.
Advert

Bringing it all together
This is a fun, light game. It is fast to learn and fast to play. This is a game that does not take itself seriously, and you shouldn't either. I think this is the type of game that thrives as a filler game. Take it to a large game day and while you are waiting for another game to end, or you are waiting for the pizza you can knock out a game or two.
If you try to make me read all that I will abduct you!
*A fun and light dice game
*It does not take itself seriously, and the dice and mechanics do a solid job of nailing the theme
*Very good rule book, which allows you to learn the game quickly
*Each game is fast
*Good components and solid art
*It is a bummer that you have to use pencil and paper to track the score, there is no score tracker in the box
Hungry's Martian Dice Review
Art - 7.5
Components - 7.5
7.5
This is a delightfully goofy game. The idea that you are Martians attempting to abduct chickens, cows and humans because you are not completely sure who controls the planet is a laugh. I am a fan of push-your-luck games so this type of game is right up my alley. It does not disappoint