If you are like us then you will be excited for the upcoming game, The Amazing American Circus! The new game has all everythign you want from a good tabletop deck builder brought in a wonderful digital way. The Amazing American Circus lands on PC and consoles on February 9th!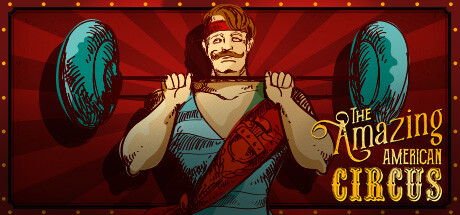 The Amazing American Circus is a single-player deck-building game with elements of resource management, tycoon, and exploration. Hire artists, each with their own set of cards, and travel across the Gilded Age USA, meeting famous people, completing quests – and become the greatest showman on Earth!
Your worst fear is the audience's indifference. Your best weapon is a dazzling amusement. Your artists are your army. Behold, the circus came to town!
About The Amazing American Circus:
The Amazing American Circus tells a story of the most iconic entertainment in American history. The USA, during the Gilded Age, is a turbulent place. On the East Coast springs up a modern metropolis, while in the west, cowboys and robber barons fight for their business. The new era is coming, and this is the last right moment for the circus to flourish!
This is a place and time where you will have to write your own story and build a circus empire. You take the role of an impoverished owner of a traveling Circus. Through your personal and multithreaded story, The Amazing American Circus reveals mysteries behind a uniquely American form of entertainment, full of bizarre folklore, brutal crime, and social inequality as it depicts a story of a struggle between a newcomer and an industry giant – P.T. Barnum.
The United States was a new, developing country with settlers steadily pushing the American frontier… To reach their public at the time, showmen had little choice but to travel light and fast. You will visit legendary places and meet real historical characters being a part of the American circus heritage. You will plan your trip and adapt your artistic offer to different groups of spectators in a constant struggle to provide hard-working Americans with the entertainment they deserve! The Amazing American Circus is a classic 'travel' game. Emerge from the South West and reach the progressive North East while seeking fame, glory, and fortune. Deliver a perfect show in a special card duel between you and the audience. Their boredom is your enemy, and your performances and tricks are the best weapons. Choose your cards wisely and try to figure out the mood of the crowd. What's attractive in the deep South won't necessarily work in the industrialized North!
As the traveling Circus owner, you desperately need to look for new troupe members while competing with other circuses. You will gather an exotic crew of strange individuals who will perform for you, but can you deliver the best shows around while traveling from coast to coast? And remember, you will not become a Circus giant with a bunch of few selected performers. You will continuously have to replace entertainers to make your show attractive for different audiences. The Amazing American Circus brings a unique blend of RPG, tycoon, and a card game. Build a strong deck of cards, improve your troupe's stats, and manage your circus camp.  
Unique story, love affairs, and hateful enemies, magnificent shows with challenging audiences and quests, all of this wrapped up in a writing style of the dime novels from the turn of the 20th century – that's what The Amazing American Circus offers. 
What The Amazing American Circus has to offer?
•Save a run-down circus, gather a troupe of performers, and dare to defy the greatest showman on earth – P.T Barnum himself.
Indulge in a story set in the turbulent times of the Industrial Revolution and the dusk of the Wild West era, and dive into the beautiful and grim world of the American folklore
• Enjoy an original and challenging card game, in which You will fight not against deadly foes but your audience boredom and stagnation.
• 100+ real historical and legendary characters from the verge of the 19th and 20th century to encounter, such as John D. Rockefeller, Susan B. Anthony, or Nikola Tesla…
• Gather a group of extraordinary artists and twisted individuals, each with their own story to tell, and venture on a journey across the 19th century the United States.
• Experience an epic soundtrack inspired by classical circus music.
Head over and learn more and check out some behind the scenes with their Devblog here.