Anyone who knows me knows that if a game has the words "fantasy", "adventure", and/or "dungeon" in it then I am instantly intrigued. Just one of those words, that is all it takes for me. Now recently I learned of Legends of Novus which purports itself to be a "Fantasy-Adventure" game. Well two out of three 'aint bad! 
Earlier this year Wes, and his company Fundamental Games, launched LoN on Kickstarter. While it failed to fun, it did make about 70% of its goal. So while it did not take him back to the drawing board, it did mean he had to make a few adjustments to the game and to his approach for production. I am always curious to speak to designers after a failed attempt to fund their game. I think in so many ways an initial failed attempt can be a good thing, it builds a passionate audience, and it forces the designer to step back and really examine everything about the game, this almost always leads to wonderful improvements. 
Advert
I very quickly reached out the creator of Legends of Novus, Wes Woodbury and inquired if he would be interested in a brief interview, and allowing me to do a preview of the game. He was more than happy to take the time, and even went so far as to make an additional print and play version of LoN for me to take a look at. (His prototypes were already spoken for, much to my chagrin!)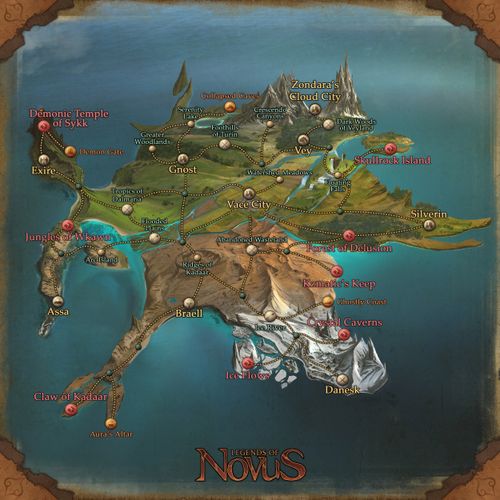 Novus is a new Fantasy world, with a growing lore, created by Wes, though certainly influenced by the plethora of fantasy worlds he has read about over the years: Middle Earth, Faerun, Toril, and Darksun to name just a few. Players take on the role of a burgeoning hero setting out to slay evil, battle monsters, grab loot, save the world, and become a true legend…'ya know…fantasy stuff.
Advert

While you will have to wait for my preview to find out exactly how the game works, I will say that there is no set goal. Rather players are seeking to be the first to become a true "legend" as determined by experience points, rather than slay a certain evil. In fact players are able to traverse the map and fight things all over, and select which great evils they want to face. Combat is relatively simple, using a single die, and basic stats from the cards.
Wes was kind enough to do an email interview with me, as well as several conversations via messenger. I have found him to be incredibly generous with his time, genuine, and passionate about his project. I will certainly be following the next campaign closely! But, enough about me let's hear from the man himself!
Advert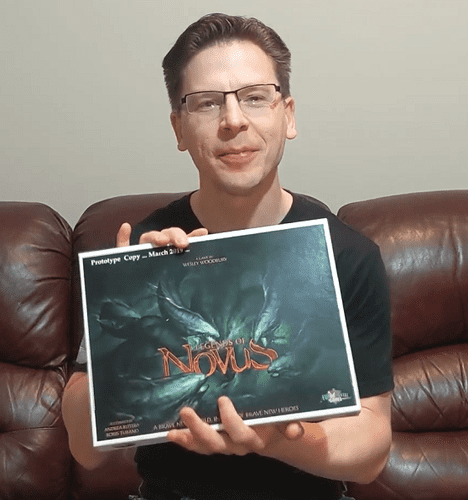 Can you share a little bit about your background as a gamer?
I began tabletop gaming by playing AD&D 2nd Edition, after reading the Dragonlance novels and The Crystal Shard. I was hooked on fantasy from then on. I primarily played "standard" boardgames, D&D, HeroQuest, and Magic the Gathering until about two years ago. It was then that I discovered the joy of other kinds of boardgames (Catan, Dominion, Clank!, Splendor, Lords of Waterdeep, Pandemic). Those really opened up my eyes to the many different ways boardgames can be created.
Advert
Novus is not your first rodeo; I know that you had a small print run of Duel of Dragons. What was the inspiration that drove you to make that game, and take it to Kickstarter?
I originally came up with the idea for Legends of Novus, but felt that it was too big of a game/project for a first time creator on a Kickstarter. I wanted to create a very artistic, and creative new world but wanted to make sure I understood the KS platform before getting too deep into it. After watching KS games, and reading many FB sites and websites, I decided a small card game would be the best way to learn more about designing, creating, and fulfilling a project as an independent publisher.
Was that game a test run for LoN?
Duel of the Dragons is a small, standalone card game that has no relation to Legends of Novus. It was designed, intentionally, to be a low funding game with no advertising or major reviews.
Is there any way for someone who is interested to get a hold of it?
Yes, for sure. The game is publicly available to order from DriveThru Cards. (You can purchase it here: https://www.drivethrucards.com/product/246343/Duel-of-the-Dr…) There is some great gameplay and review videos available from a YouTube channel called "TwoGun Pixie" if you want to see what the game is about.
LoN is listed as a "Fantasy Adventure Boardgame". What does that mean?
Usually when I see a game with characters, and progression and fantasy we are talking about a dungeon crawler like Gloomhaven or Wander: The Cult of Barnacle Bay, or Dungeons of Infinity; LoN is not a dungeon crawler, what does it offer that a dungeon crawler does not?
To me, a fantasy adventure boardgame is a game that is deeply rooted in standard fantasy tropes (wizards, warriors, dragons, dwarves, etc), in which you can travel and grow more powerful. The common theme I see in these kinds of games right now is that they usually have complicated battle mechanics, they are heavy on miniatures (and thus get expensive), and they often have extensive campaign material that can take 40+ hours of gameplay to get through. Legends of Novus offers a simple battle mechanic that is still influenced by strategy and choice, it is used with standees only as player markers, and there is no campaign mode. You can play through the game, start to finish, in 60-90 minutes once you are comfortable with the locations and the rules.
I also notice that you have gone with standees, rather than minis as the only option. Was that solely a cost move, or is there another reason?
The use of standees was for a few reasons. First, the artist for LoN is very talented, and I want to showcase his art anywhere I can in the game. Second, the standees are only required to represent where a player is on the map/board of Novus. Third, the cost of minis (as a new and independent designer) are very high and would require a significant level of investment and trust from backers.
If cost is the reason, is there a thought of adding minis down the line as an add-on or expansion?
At this time there is no plan to create minis for LoN.
Your first attempt at Kickstarting was not successful. Why do you think it failed? What lessons did you learn?
I learned that some of the components needed to be created in a more cost effective format, with the potential to upgrade as stretch goals instead. The game raised $15,000 USD over a 30 day period, which was very promising and showed that over 400 people were interested in it. It was missing reviews/exposure from the biggest influencers in the industry, and it was not brought to any major conventions. With the relaunch, on June 25th, the game will have a Preview by the Dicetower Network (via Boardgame Corner with Mark Streed). It will also get a full playthrough by Tantrum House. And for conventions, my work life and location in Canada prevent me from attending, but the game will be represented and demoed at Origins in mid June.
(Authors note: I am very happy to say that yours truly, the Hungry Gamer, will be doing a preview as well.)
Did you consider giving up?
No, from the first day of launch I had a backup plan to relaunch in the summer. I felt that the money and time invested for the first launch were important, but not a do or die situation. The first KS helped show the game to thousands of people, and created some great contacts and supporters for the relaunch.
You made some changes before relaunching, most notably, dropping the price and the goal. What other changes did you make?
*Price reduction from $49 to $47 USD. This is not a major change, but still worth mentioning.
*Changed the thickness of the player boards to reduce cost/weight of the game.
*Changed the Quest Creatures from 4.5″ tiles to 4.5″ cards, then the tiles will become a Stretch Goal.
*Looked at ways to generate interest in the DnD community, currently working on 5E material for an Adventure module that could be used in any current setting, to introduce players to the world of Novus.
*Creating a companion app for iOS and Android, that will be offered free with game purchase for players to have a full visual access to every card/component as they get finalized before production.
Moving on to the game itself, what is unique about Legends of Novus? How is it different from the other fantasy/rpg games on the market?
*The visual character boards, with the full card inventory method, truly showcases what you have with your character at all times.
(Author's note: The character boards are similar to the inventory screen on a RPG video game. Slots for everything, there is never a stack of cards anywhere)
*The open concept map, where any player may move anywhere at any time, allows for planning and strategy instead of forced encounters or campaigns.
*Being able to go from a fledgling adventurer to an epic hero in a single gaming session.
*A wide path of growth for any character, instead of relying on new games to try new characters. Each character being able to advance into four different dual classes keeps the options very open to players.
Are there any other games in the cooker?
Yes, the mind does not stop! The two I have prototypes of right now:
*Player Character: a deckbuilding game about creating a fantasy character on the go as you build a deck that represents them.
*Spellbook'd, a drafting/resource management game about competing spellcasters at a school of mage.

If by now, someone is still on the fence after reading the whole interview, what is your "elevator pitch" to give them that last nudge to late pledge?
If you want to enjoy an epic, fun filled fantasy game that you can get through in a single session, and want to play again and again, this is the game for you! Adventure, Encounters, Quests, Magic, and more all await you with simple mechanics and amazing fantasy art.

(Authors note: G33k-HQ believes "geek" to be a thing to be proud of, as such we like always ask the following.)
Do you consider yourself a geek?
Just a person who happens to love games and fantasy.
What does geek mean to you?
I don't think that term is truly relevant anymore. Gaming and fantasy has become so mainstream and accepted now that it's hard to consider it as geeky anymore.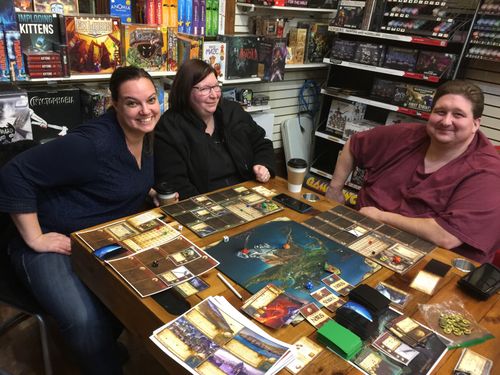 Legends of Novus will return to Kickstarter this summer. You can join their official facebook group, by searching Legends of Novus, and you can try the game out on their Tabletop simulator (https://steamcommunity.com/sharedfiles/filedetails/?id=15635…). Though do note that that will be a slightly older version of the game, but you can certainly get a feel for it. Check back in the coming weeks for the Hungry Gamer's video preview of Legends of Novus.