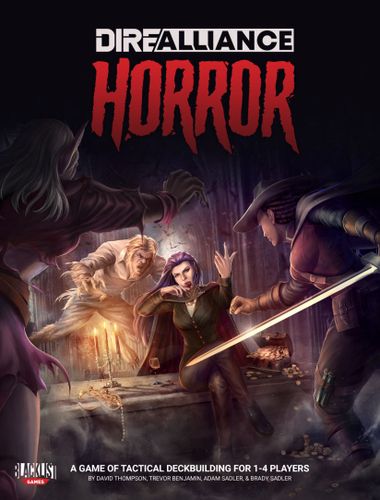 Before I begin, I played this game on TTS with other reviewers, who are creating content for this game. This is not a paid preview. Click here to be notified on the launch of this kickstarter.
I have just recently learned about David Thompson games…who knew he had so many? Then Michael from One Stop Co-op Shop sent me a copy of one of his games, and followed it up by asking me if I wanted to check out the competitive mode of Thompson's (and Trevor Benjamin of course) upcoming KS game with him. THEN Mark Dainty of Not Bored Gaming wanted to try the co-op mode with me, and before I knew it I had played just about everything the demo version had to offer!
Advert
Now for those of you who know anything about Blacklist Games, the publisher, you will know that the Sadler brothers are known for their co-op card driven miniatures games. That has become Blacklist's bread and butter, so I was a bit surprised to learn that the master of skirmish games David Thompson was designing for them…I simply could not wrap my brain around how that was possibly going to work.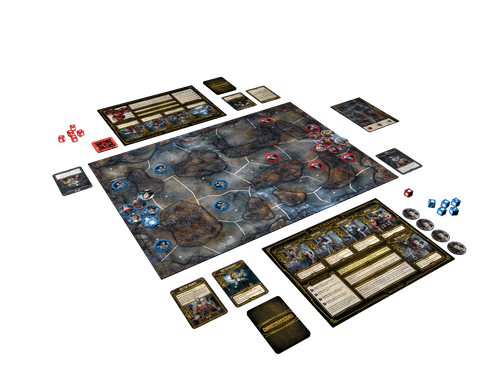 As it turns out, the way it works is there are two different modes of play. There is the head to head combat mode, where each player controls a horror themed monstrous faction (each with their own deck), and they rumble until one side has claimed a set number of objectives from the map. The co-op version includes new decks and new heroic characters. Each player controls a hero and they face off against one of the monstrous factions.
Advert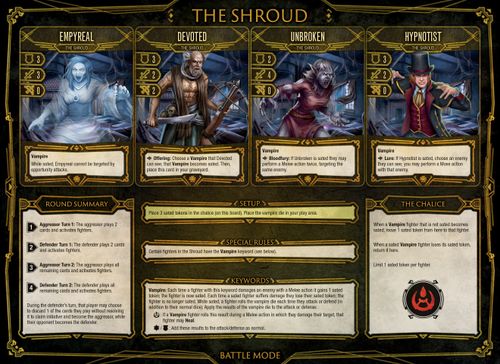 In both modes your life is determined by the number of cards in your deck of each type. When you take damage you are forced to discard a card from your hand or your deck of that type. This has a two fold effect, one you are close to death (duh), and two it means that whatever unit (in the skirmish game), or ability (in the co-op) is less likely to show up in your hand that you draw each turn. Thus effecting your strategy moving forward.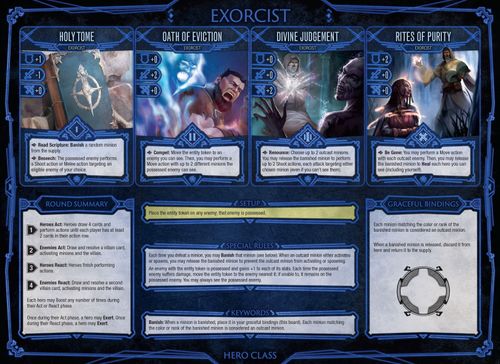 The core of the gameplay is card driven. As you play cards you are given an option of doing one of the actions listed on the card, or performing a basic move, attack, or claim objective action. Combat is managed with the creation of dice pools, and the numbers of dice on both sides can be adjusted due to card play.
Advert

So what do I think?
Delectable
Advert
The artwork is top notch, and based on the sculpts and images I have seen of some of the latest Blacklist miniatures those should be excellent as well. The game also does one of the things that I really appreciate, and that is, it uses area movement. If you have played Wildlands then you are familiar with the way it works. I am a big fan of that, it makes the game feel more thematic to me, and less tactical, which is a bonus for me.
The game plays very quickly, and though there is a bit of rules front loading required it is not overly hard in either mode. I am a big fan of the method of wounding enemies in the game, both in that they lose cards, and you can never do more than one damage on an attack, I think that helps keep balance. I also really like that in the solo/co-op version there is a mechanic of cards not only being used for their abilities, but as you use them you are powering up your later abilities as well. It is very clever.
Tasty
The solo mode is just a quick one off. It almost feels like an arcade game level. It is fun, but if you are looking for story or any type of campaign, this is not the game you are looking for.
When playing in the solo version of the game you are creating dice pools for both yourself, and the enemy, and it is possible to do nothing with a roll of the dice. This is a departure from many of the other games from Blacklist.
Edible
This is a game that is going to thrive or collapse under the weight and variety of the characters, and factions. Since the game play is simple, the question will become are there enough characters, that are truly different for the solo game to not start to feel same-y? The same with the various factions? Blacklist, and Thompson certainly know how to do this, but make sure you take a good look at the variety of decks in the game. This variety will make this a game with good shelf life or one that is a good diversion, but one that will ultimately collect dust.
Bringing it all together
Dire Alliance is really two games in one. You have a skirmish game and you have a hero based Dungeon style, adventurish game. Both of the games are lightning quick, and use variants on the basic mechanical theme. Considering the pedigree of the miniatures that Blacklist recently funded on Kickstarter the game promises to look wonderful on the table, and the art is good. The biggest questions outstanding are, will their be enough characters, and factions, with enough variety in the abilities and cards to keep the game interesting enough to keep coming back to over and over? I suspect this will be determined by how well it funds on Kickstarter.
Only a monster could talk that much
* Production promises to be quite good based on the quality of recently funded minis
* Both the co-op and skirmish games are fun, quick romps; these romps feel like two different games running on slightly different variants of the same rules
* If you are looking for story, and connected adventures, it does not appear that you will find it here
* I definitely enjoyed both modes of game play
* If there is significant variety to the factions, and characters this game will certainly hit the table regularly, if not then it will be one that comes out only occasionally