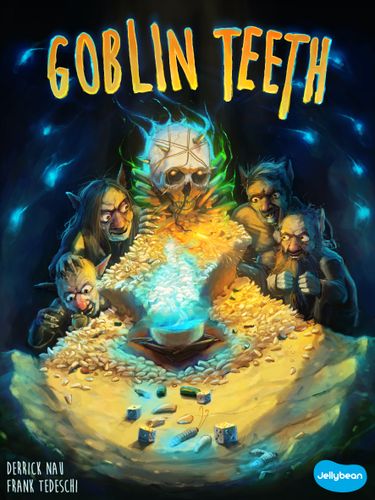 Before I begin I was provided a prototype copy of the game in exchange for an honest review.  This is not a paid review.  If you would prefer to watch a video of this preview you can check it out below.
Goblins are the best.  Single minded, sneaky, unapologetic, hilarious.  So if you put a game in front of me themed with goblins, I am in!  So when presented with a fast goblin themed set collection, bidding,  trick taking game I was all about it.  Especially when I saw it plays in only 20 minutes.
Advert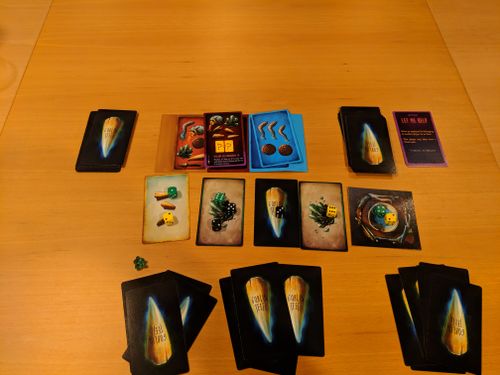 The game is quite simple.  Each player is a goblin trying to be "best goblin" by making the best offering to the Boss Goblin.  Each game there are two different offerings, a red and a blue, the red being the more valuable of the two.  Whoever is able to complete an offering first is the winner, if more than one player succeeds in the same round, there are a couple tie breakers, culminating with the ugliest player wins.  If you are actually goblins this is an awesome final tie breaker.  If you are not a goblin, then maybe roll a die instead…
Each turn there are items flipped out of the deck and you are able to bid on them with the dice that you have rolled at the beginning of the round.  However, before you place one of your dice you have the opportunity to cheat, with your cheating cards.  These might give you a bonus, or hurt an opponent or mess with the dice. Your turn ends once you place one of your three dice.  Once all dice have been placed whomever has the highest value on the cards claims them (though goblins can only count to 10 so you can never bid more than that…they also hate ties so you can never place a die that would result in a tie).  After items have been claimed every checks to see if they completed an offering.  If so the game ends.
Advert

So what do I think?
The Good
Advert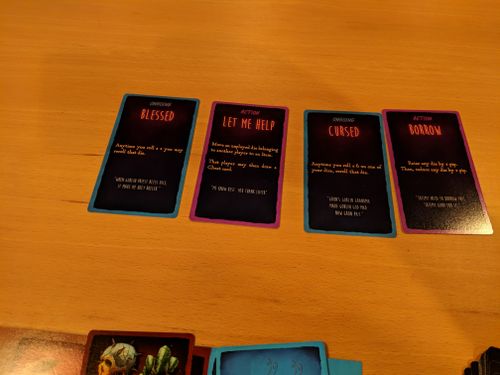 I really enjoy the theming of this game.  Everything is just on point.  The flavor text, the actions themselves, the items you are fighting over, all feel very "goblin".  I mean what is more goblin than the best offering being a goblin skull bomb, 2 glow worms, and 4 goblin teeth?
I also think the dice bidding mechanics work well.  It adds a fair amount of randomness to the game, but it is set up to allow you to recover from bad rolls, as you can always sacrifice your dice to gain more cheat cards, or remove all lasting bonuses or curses, and if you wind up getting absolutely nothing, you are rewarded with a cheat card so you can get them next time.
Advert
All in all, it is simply a fun quick game, that has three well designed play styles.  They have cleverly created two sides of the offerings which allow for items to be discarded instead of used for special actions, OR each player can be given their own set of offerings that they are working towards.  Each of these variants are simple to play, but DRASTICALLY changes the gameplay.
The Middle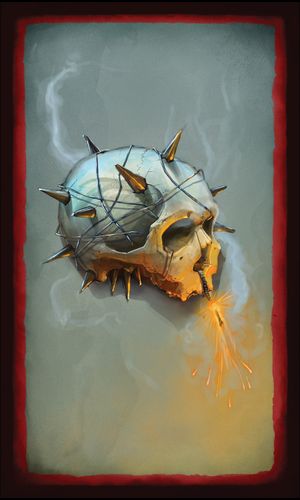 The art, for me, could be better.  While I like the way the items are drawn, I find that it lacks any goblins.  That is so disappointing to me.  It seems like the action cards could certainly have goblin art on them, which would be brought to life with the fun flavor text already on them.  Hopefully this will be a stretch goal in the campaign, but I certainly do not know.
The Bad
There is potential for some analysis paralysis in this game.  There are a fair amount of options out there, and you can build up quite a stack of cheating cards, you are also not fully able to plan your turn in advance, because so much of what you can do is determined by what other players do before you.  I am someone that plays quickly almost all the time, so I do not suffer from this, but it is something that some groups might run into.
Bringing it all together
Goblin teeth is a fun simple game, that does a good job capturing its theme.  It plays quickly, with three different variants that, with minimal changes to the rules, add a lot of variety.  I do wish there was some goblin art included on some of the cards, and can see some groups suffering from analysis paralysis since it is challenging to plan your turn fully, as you are really reliant on what the previous player does.
Read lots make goblin mad.  No make goblin read!
* Captures the theme of goblins trying to impress the big boss
* Fun and simple gameplay
* Good variety of game modes, plays quick in 20 minutes or less
* I wish there was some art of goblins
* Some groups might suffer from analysis paralysis in some cases