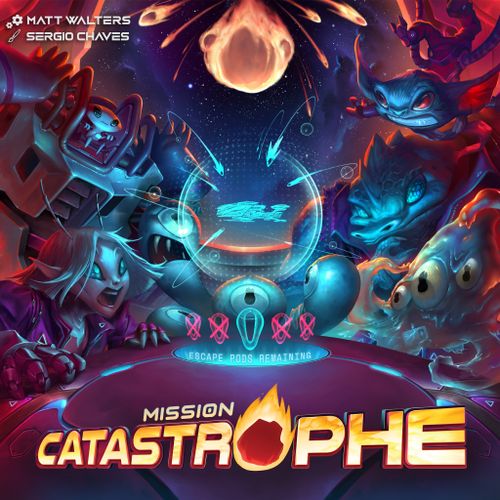 Before I begin, I was sent a prototype of the game, and will receive a copy should it fund in exchange for an honest review.  This is not a paid preview. If you would rather watch a video of this preview check it out below. Get your own copy here.
I have a few games cross my path in the sci-fi survive the exploding space ship genre. Solar StormI enjoyed but sent off to my brother, the Captain is Dead was cool, but is now on my to sell pile. These type of games have just never really held my attention, even though they are both examples of games that I think are good.
Advert
So the question is, what was wrong with me that I decided to preview another game that lives in the same about to explode space? The answer to that is…I liked the box cover. Seriously. I have a problem.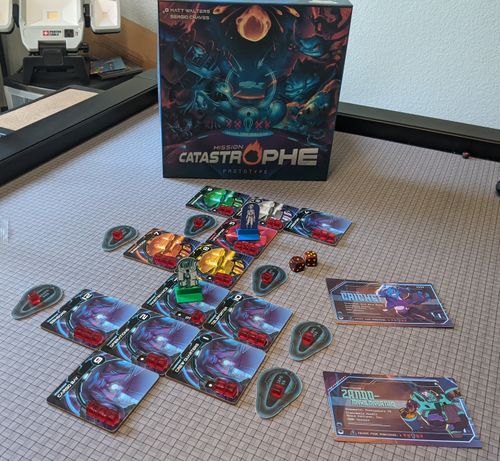 In Mission Catastrophe you find yourself on a space ship being battered with asteroids, and you will have to work together to keep the ship from exploding. Of course, the most important thing is to make sure that you get off the exploding ship. What is that? There is only one working escape pod and four other crew members? Stinks to be them!
Advert

At the beginning of each round various rooms in the ship will get damaged, if they get severely damaged then you will no longer be able to use the special room ability, if they get destroyed…better hope you have a space suit, because the explosive decompression is going to cost you all of your cards, and it is going to damage other rooms around it.
On your turn you will be able to take three different actions. This might be moving, using a room, playing a card from your hand, or repairing the room. In addition you will on the lookout for the various escape pods, and trying to make sure the one closest to you is the working one so when you gather the required supplies you can easily escape.
Advert

You will play until either the ship explodes, or one player has managed to escape. That is it. It is also worth mentioning here that there is also a co-op mode, and a team mode variant that can be played.
So what do I think?
Advert
Delectable
I really like the artwork of the aliens. They have such personality it is great. I also really appreciate that the rooms are modular, and you will have plenty of options of ship layout, and what rooms arein the ship each game.
This keeps replay higher as it is much harder to "solve" the game. Speaking of replay I greatly appreciate that there are so many different modes of play. One of my big complaints with this style of game is that it often seems to lose its luster after a few plays, but having all these different modes makes it attractive to a large variety of gamers.
Tasty
This is a semi-co-op game. This absolutely might not be your cup of tea. I will say that when I was playing it did feel more like a pure competition game, but there certainly is the potential to just blow up the ship when you know that you cannot win. It is not easy, but it is possible.
Edible
I wish that, even though there is good variety in the character roles you get at the beginning of the game, I wish that each character was ever so slightly different, even if it was just a once per gameability they could use. They have such flavor, I wish that they played slightly differently.
I also think that there might be an issue with going last in large player count games. It is completely possible that if you are going last in a game you might find yourself losing all your cards due to decompression before you have even gotten a chance to act. Often games will give players going later some sort of benefit to compensate for acting last, so I hope this game will adopt something like that.
Bringing it all togetherMission Catastrophe absolutely reminds me of some existing games (Captain is Dead, Solar Storm come to mind), and ones that I think are quite enjoyable. While it does not do a ton different mechanically, though there are differences, what makes this game stand out from them to me is the versatility baked into the game. You can go pure semi-coop, you can go teams,you can do a solo or coop version. Not only that but you can build your ship in different shapes, and with different room load-outs. All of this makes for a game that will be much harder to "solve" than some others in the genre. The art is good, and the production has great potential. I do wish that the variety extended to the characters themselves in some way, and I am concerned that there may be a significant disadvantage to going last in a large player count game.
No time to read! Asteroids!
*Really like the art and character of the aliens
* Amazing versatility in the way the ship can be built, and the various modes of play
* The core mode is semi-coop which might not be your cup of tea
* Wish the amazing versatility extended to the characters,and they were unique beyond the art
* Might be an issue with players being at a significant disadvantage if they go later in the round
* This game has the potential to be the best of this style of game