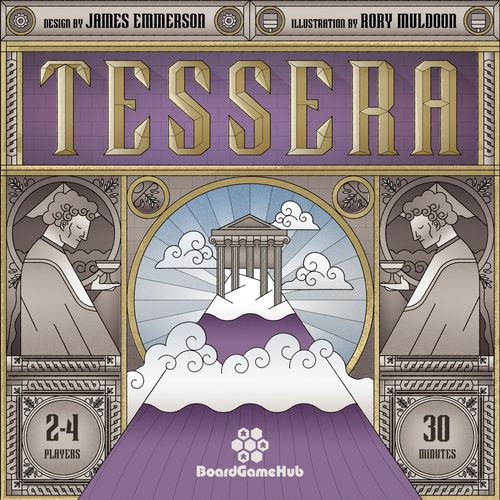 Before I begin I was sent a prototype copy and will receive a production copy if it funds. This is not a paid preview. If you would rather watch a video preview or a playthrough then you can see those below. Get your own copy here.
The more I have reviewed games the more I have found that I crave light, or medium light games on my shelf. This is not to say I prefer them to heavier games necessarily, but I find I spend a lot of time, and effort into making sure that I have rules correct, and learning how to play that sometimes I just want to sit down with my wife and play something quick and easy. Something along the weight of Ticket to Ride, or Splendor.
Advert
Due to this, I am always on the lookout for other games of that weight; Lions of Lydia was one. Needless to say when I browsed the rules for Tessera and saw that it just might fall into that category I was PUMPED.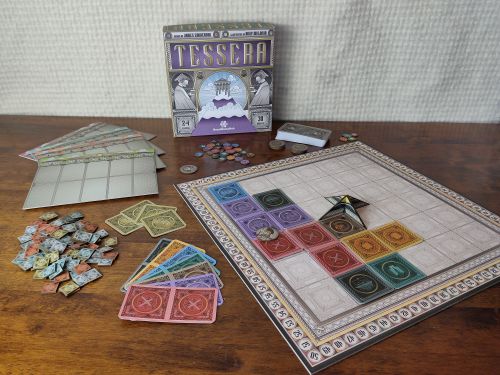 In Tessera you play as an acolyte of a Roman god…or perhaps all the gods. You task is to create a mosaic in the temple that will best please them…all. To do this you will be laying out cards (each side of the card has a different gods symbol/color on it). As you do this you will you can either lay them on a totally blank space or start to stack them on top of other cards, thus covering some symbols and creating new patterns.
Advert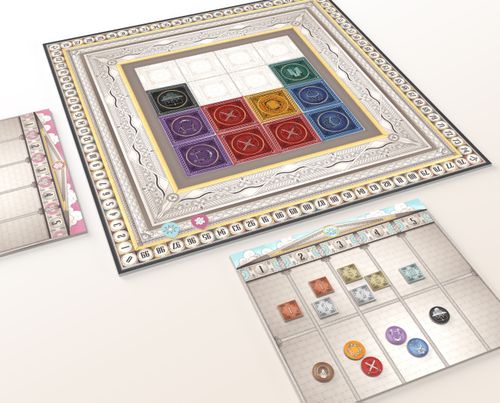 Your goal is to match the symbols orthogonally. The more that are connected the more potential points you will earn. However, each time you make a match you have to choose whether you want to take the points, or advance your end game scoring multiplier. On occasions where you match multiple colors you have to choose which option you want for both of them, you are not able to mix and match.
Once all the cards have been played, the player with the highest score is crowned the winner…which likely just means that you are not turned into a flower, or a deer by the gods who are unhappy with what you have done.
Advert

So what do I think?
Delectable
Advert
I really like how this game looks on the table. I think it is very visually appealing in its simplicity. More importantly I think the game is extremely elegant in its simplicity.
Even in the more complex 3-4 player game there are very few rules, but the decision space is large. Almost every single turn you have the option to score points, but that choice of when to start scoring points and stop increasing your multiplier is a constant. It is delightfully frustrating to make that decision, and then you are constantly questioning whether or not you waited too long to start scoring your points. It is a blast.
Though I have never played the 3-4 player game I like what I see about it. There is an added rule that limits where you can lay tiles slightly, and I love the idea behind it. It is a way to force players to build the mosaic out from the center of the board, preventing a pile up of cards, and it shouldkeep the game feeling fresh.
Tasty
I got nothing. I like this game quite a bit, and the things I think work, I think REALLY work.
Edible
The theme does not come through on this one. At the end of the day you are making pretty patterns, but the bit about the gods is not realized. Especially because the Roman/Greek gods were petty AF, and I cannot imagine it going well for anyone defacing mosaics honoring one god to honor another. It just seems like bad business all around.
Finally, in way of a warning, this game is not remotely heavy. It is fast and simple, and if you are looking for more than that then perhaps look elsewhere…might I recommend Feudum 🙂
Bringing it all together
Tessera is a light, simple game that is almost perfectly calibrated. The rules are lightning fast to teach, but the game is just a pure delight to play. The choices are always meaningful, and it plays fast enough that even if you make all the wrong choices, you will be playing another round in 15-20 minutes. I think the game looks lovely on the table, and my only really quibble is that the theme does not really come through. If you are looking for a game the same weight of Splendor then this is a great option. In fact I think I would always reach for this before I reach for Splendor.
Ahhhh, I see the gods cursed you with verbosity
* Game looks lovely on the table
* Theme is there…sort of
* Very easy to learn, and play
* Though the game is simple, it is a delightful puzzle to play
* Between Tessera and Lions of Lydia I cannot see Splendor hitting my table again
Game Details

Name
Tessera (2021)
Complexity
Medium Light [2.00]
BGG Rank
0 [8.00]
Player Count
2-4
Designer(s)
James Emmerson
Artist(s)
Rory Muldoon
Publisher(s)
Board Game Hub
Mechanism(s)
Card Drafting, Hand Management, Layering, Pattern Building, Square Grid and Tile Placement