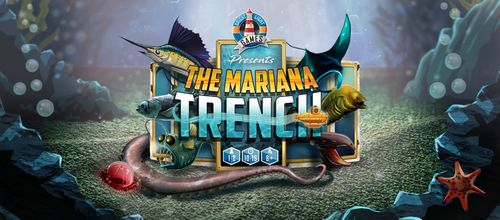 Before I begin, I was provided a prototype of the game, and will receive a production copy should it fund, in exchange for an honest preview. This is not a paid preview. You can check out a video of the review below, as well as a solo play video, and in depth how to play video. You can get your own copy here.
I have said many times that I am a fan of the art stylings of Tristam Rossin. I have yet to come across a game he has illustrated that I did not at the very worst, like the artwork on. However, in an interesting turn of events, he has created his own game publishing company, and I got the chance to check out their first game.
Advert

Now checking out new games is always exciting, but getting to check out the FIRST game a company ever puts out, is even more exciting! To top it off my wife loves the ocean and sea critters so this one seemed like a no brainer to me!
The game itself is a lightning fast, simple game for 1 or 2 players. In the game you will be sending your sub fathoms beneath the surface of the ocean to research the sea critters. Each time you discover something new you will have the option to collect the specimen, or use the same card to upgrade your sub, and occasionally you will come across something large that will panic and potentially damage your sub.
Advert

If you are playing with the expansion then you might come across some prehistoric, and possibly legendary creatures in the depths as well. Things like the Megalodon, or the Kraken. These cards all have their own unique event that will effect the game state in one way or another.
The game ends when the three O2 tank cards are drawn, and placed out onto the board. At which point both subs will surface and you will score. Scoring is simple, as you earn points from collecting various sets of sea creatures, and from performing research on the bottom of the sea. High score wins.
Advert
So what do I think?
Delectable
I think the game looks wonderful. The artork is very attractive, the playmat is gorgeous. I also appreciate the speed of the game. This is a very portable game, that plays in anywhere between 5-15 minutes. The game is very simple to play, and I think that it shines as a solo game, something to bust out when you are sitting for a coffee or the like. Quick, simple, solitaire action. I think it works as a solo game, because it is not easy. I have yet to surpass the lowest level on the scoring chart.
Tasty
Did I mention the game is simple. Yeah it is really simple. This is the true definition of a filler style game. The game is even simpler if you are not using the expansion module that comes with the game.
Edible
I would like to see a bit more variety in the game. I think the base game would benefit from another class or two of sea creatures, and it would be great if the subs were slightly different. Perhaps they are slightly different builds at the beginning which would encourage you to seek out different upgrades as you go.
Bringing it all together
The Mariana Trench is the epitome of a filler game. That is what it is intended to be, and that is what it is. It is lovely to look at, highly portable, and, to me, shines as a solo game (especially with the expansion). I would like to see a little but more as far as variety in the game goes, which would give it a bit more staying power, but this is certainly a good first offering from Bright Light Games. If you like the deep sea, and are looking for a 10-15 minute game then this is a good option.
Yeah…fish don't read good
* Lovely artwork on both the cards and the playmat
* Lightning fast play, especially if you are not using the expansion
* To me, this is a stronger solo offering than competitive
* Very portable, and a good quick beat your score game
* Very challenging solo play
* Would like to see a bit more variety in the game, hopefully it wil come via stretch goals.