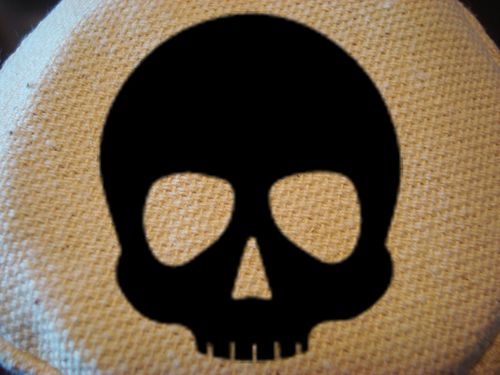 Before I begin, I was sent a copy of the game in exchange for an honest review.  This is not a paid review. If you would rather watch a video of this review you can check it out below. You can get your own copy here.
There are not a ton of games that I really call travel games. By travel game, I mean ones that I can toss in my back pack and forget about, and at the same time take up no more space than an airplane tray table. Bonus points if it is a game that I can play while camping, or at the pool. So when Green Skull showed up, unannounced packed in a glorified pencil pouch I was intrigued. It certainly seemed portable…but would it be? And more importantly would it be able to pack some interesting gameplay into a small package.
Advert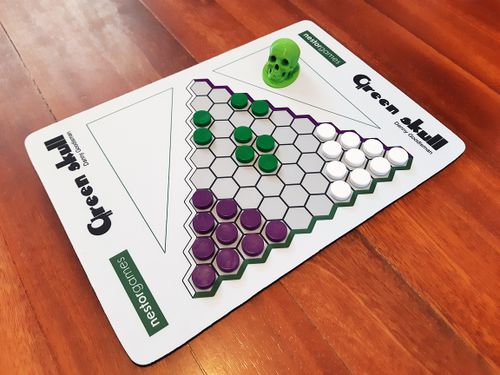 Green skull is a strategy game that combines elements of checkers, Sternhalma (more commonly known in America as Chinese Checkers), and Omicron Protocol, with a bit of Chip Theory Games waterproofing thrown in. Ostensibly one player is playing orcs, while the other is playing goblins, and in the middle are the third party of zombies, which players will take turns controlling.  
The purpose of the game is to move all of your pieces to touch the side of the board that matches your color, and while doing it you will be jumping pieces (yours and others) to get there. The game ends when one color is completely on their goal side of the board, OR one of the three colors is gone.
Advert

One player will start with the Green Skull, this means that they are in control of the Zombies, and will get to move them, like they move their own pieces. However, once they jump another player, they will have to surrender the skull to the other player. Players will do their best to manipulate the board to both collect as many pieces as they can (one point each), or get their own pieces to the other side (2 points each). Most points wins.
So what do I think?
Advert
Delectable
The game is super simple, and lightning fast to set up and play. It actually incorporates my favorite parts of the three games I mentioned at the top. The jumping of pieces, they trying to reach home and the third party that can harass or benefit both sides. That really mixes up a classic style game and makes it more gamerly.
Tasty
It is SOOOO close to being completely waterproof. Everything, from the plastic discs, to the skull to the case, to the neoprene mat…everything that is except the rules. I wish the rules were just printed on the reverse side of the player mat, they are so simple that it does not take more than one or two quick reads to know what to do. I can absolutely see playing this game next to a pool, but unless you are going to separate the rules completely that is a bust.
Edible
The theme is a miss to me. As I write this, I know that the green discs are zombies, but I cannot remember if purple or white is orcs or goblins. There is nothing that gives me any idea of what the story is behind the game, even if I could see orcs and goblins in the discs. The skull is cool, so it is a shame there are not images printed on the discs or something like that. Or just go the other way and make it completely abstract.
Bringing it all together
Green skull is just about the ultimate light travel game. It is just about the complexity of a game of checkers, but has added elements of Sternhalma (colloquially known as Chinese Checkers), and even has my favorite part of my favorite skirmish game Omicron Protocol in the mix, with a third faction both players control. If the rules were somehow also waterproof it would be a perfect travel game. Small, compact, and can could literally be played in the pool. The theme is pretty much non-existent, so you are really playing a color battle game, with a cool skull you pass back and forth. At only around $20 its a good stocking stuffer type game.
Get to the point or we will be using your skull not this green one!
* Very small, easy to travel with.  Plays anywhere, even in a pool
* Wish the rules were just printed on the reverse side of the board
* Theme is non-existent once you actually get into the game
* Feels nostalgic to play with the complexity of checkers, but the added third party, and movement rules makes it feel fresh
* Very inexpensive