Before I begin, I was provided with a review copy of the game in exchange for an honest review.
For those of you that prefer a video review, you can watch it below.
Advert
A few years back Sheriff of Nottingham was the rage…if not all the rage. It seems like everyone was talking about it (I know if you look on BGG now, you would never guess that). It was just about a year or two ago that I played it for the first time and had my introduction to a true "bluffing game."
Now I know, this is a review about a different game, but bear with me here! To me, Sheriff is the quintessential bluffing game, it is a delightful mix of dishonesty, mixed with social deduction and out and out goofiness. This brings me to Guardians Call; which is another bluffing game, and in many ways reminds me of Sheriff.
Advert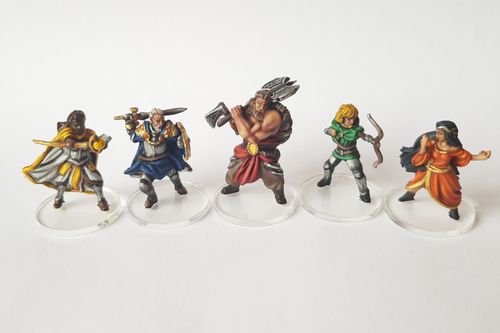 Now, I will not go into great detail about the ins and outs of how this game is played but briefly. Each player is a hero of the realm, tasked with bringing in supplies to bolster the kingdom before the war begins. This is done by collecting weapons, shields, villagers, and artifacts (sets of cards) and placing them in your tableau. Each of these sets results in your miniature moving up the castle track (thus earning Victory Points), or earning points at the end of the game.
The core of the game is, clearly, about collecting these sets of cards. This is done in two ways. One, you can buy directly from the board with your coins, or you gain them through the "offer" phase. In this phase, the active player takes any number of "like" cards and offers them to another player. They can either tell them what the card are "truthfully", or they can lie about it. If the player on the receiving end guesses correctly if they are being honest or not they get the cards, if they guess incorrectly the giver gets the cards (unless they are curses, then it is opposite) and the other player gains a coin.
Advert

That's it. That is the basics of the gameplay, yes there are a few details left out, but you have the idea. Eventually, a card called "War" is drawn, then you finish out the turn and total up the points.
I spent a good chunk of space talking about how this reminds me of Sheriff of Nottingham, so I will point out here that there is one HUGE difference which I both like and dislike. In Sheriff there is a rotating Sheriff who is charged with determining who is being honest and who is not, then they get to extort the other players, and/or take bribes. Guardian's Call has eliminated this. You will see me talk about this below as a good thing and a bad thing, which I think is cool, and makes this game a worthy challenger to Sheriff.
Advert
So what do I think?
The Good
Now I do not know this for certain, but I have a feeling I can say this about all Skybound/Druid City games, but the production value is very high. There are cool miniatures, gorgeous character art, good card art (more on this below), and a spectacular game insert. I also really appreciate that there are both male and female characters of varying races. Thank you for adding that.
I LOVE that the game is set up in a way that makes King-making very challenging (one of the weaknesses of Sheriff). The games requires you to make an offer to every other player before you can make an offer to a player a second time. I love that this eliminates the ability to freeze someone out, or decide to help a player catch up. GC also does not force players to have a debate, discussion and argument, like Sheriff of Nottingham does. This is a huge boon for many players.
I also like that the game forces interaction between many different players at once, this keeps the pace of the game up, everyone is making offers to all the other players, and it is a quick and simple mechanism. Speaking of the game mechanisms it does a very good job of helping players stay in the game if they just are "bad liars". The coins can be used to make purchases directly from the market, or to turn curse cards into a solid number of victory points.
Finally, I really like that the game is simple to learn, and quick to play.
The Middle
While I have greatly praised the artwork…and it deserves it, I wish there was more of it. Each of the cards looks exactly the same, yes I recognize that it would be silly for all the resources to be unique, but it would have been awesome if the treasures were actually drawn out, they have such delightfully thematic names: Beacon of Aid, or Helm of Beneficience. The same thing goes for the Quests.
The second thing that I wish there was more of is the story. The art, and the story blurb does a good job of attaching a theme to this game; that and I love the art of the characters so much, but I do not know anything about these characters. I WANT to know about these characters. James Hudson, why did you not tell me more about these characters?! What have I done to be deprived of the, undoubtedly, incredible stories of these characters?!
Speaking of the characters, this brings me to the other thing that is fine, but had the opportunity to be great. The characters are asymmetric-sort of. You get bonuses based on cards placed in your tableau, each one gets bonuses for a different type. I think there was an opportunity to give each character some kind of power that would really be evocative of who they are.
The Bad
I only have two things to talk about here, and admittedly, they might strike you as strange. I have already talked about how I like the minis, and the production value…this remains true. That said, I wish I got to do more with the minis. They are only used on the castle tracker which is only used when you gain villager cards. Is it truly "bad" to just be given a super cool mini? Probably not, but I do feel it is worth pointing that out.
The second thing, I alluded to earlier when I described the difference between GC and SoN. Sheriff forces players to interact, and have discussion, argument, and debate. If you are someone like me, then this is awesome, you get to create a character (two really) and be ridiculous. This is not present in GC, and in some ways it is something that I really miss-of course that is a completely different game, so take that for what you will.
Bringing it all together
When I consider recommending Guardians Call, I have no choice but to compare it to Sheriff of Nottingham. They are distinctly different games, and I think both of them have a place on folks' shelves. You simply have to decide if you are interested in having to have a discussion, or argument around the gaining of your cards. If that is not something you are interested in, then unquestionably go for GC. The character art is awesome, the production value is very high as well. I wish I knew more about the story behind the characters, and got to do more with the cool mini they gave me! Mr. Hudson did an awesome job of removing the ability to king make in GC, which can be a huge problem in bluffing games like this.
I'm not falling for that! You think I believe you when you say you only wrote fifteen paragraphs! Get outta here!
*Amazing art, I just wish there was even more
*Theme has the potential to be awesome, I just miss having more story
*Does an excellent job of creating and maintaining a balanced game, with good mechanisms to prevent both King-making and keep players who are flailing fibbers from failing fabulously
*Does not inspire getting into character (could be good, could be bad)
*Very high production value
*Easy to learn, quick to play
The Hungry Gamer Reviews Guardian's Call
Overall - 75%
Art - 85%
Theme - 70%
Story - 60%
Components - 80%
*Amazing art, I just wish there was even more *Theme has the potential to be awesome, I just miss having more story *Does an excellent job of creating and maintaining a balanced game, with good mechanisms to prevent both King-making and keep players who are flailing fibbers from failing fabulously *Does not inspire getting into character (could be good, could be bad) *Very high production value *Easy to learn, quick to play