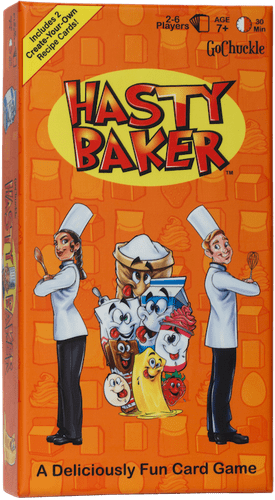 Before I begin I was sent a copy of this game in exchange for an honest review, this is not a paid review. If you would prefer to watch a video of this review check it out below, and if you want to get your own copy click here.
I don't like cookies. Said no one ever. Seriously, everyone likes cookies! So if you are going to give me a game that deals in competitive cookie-ing, I am all in. If it is a game that my wife is interested in playing then EVEN BETTER.
Advert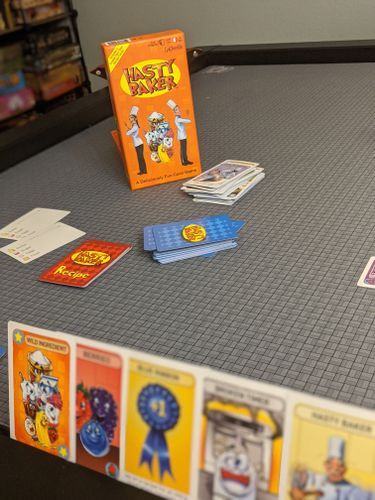 Hasty Baker is a game where you are trying to be the first baker to complete five points worth of recipe. Each batch is worth a point, and there are some cards that might give you bonus points. Finish one recipe you flip up the next one and you keep on going. Each turn you will be able to take 2 actions, from a total of three different options, and yes you can repeat.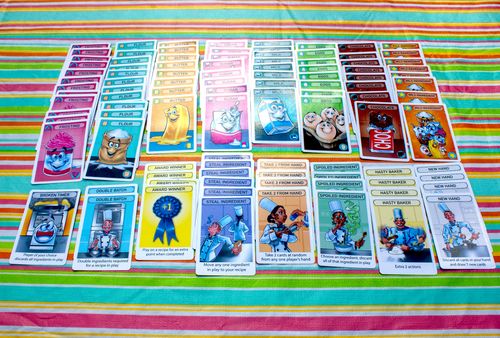 On your turn you will be able to place an ingredient card, play a tactic card, or trade in an ingredient in your hand for a new one from the deck. Complete your actions and then draw up to seven cards. Rinse and repeat.
Advert

So what do I think?
Delectable
Advert
The art. It is completely adorable. I love the fact that all the ingredients are clearly super happy that they are going to be cut, macerated, creamed, cracked, and mixed until they are no longer recognizable, then put into an oven at 350 degrees for 20 minutes, then get eaten.
The game also is quite portable, and is very fast to play and learn. Young children, and old folks like me can easily enjoy this game.
Tasty
The combination of recipes is good in the game, but I do wish that there were more. I would love to see a bit more variety here, and in the same vein, I wish the create your own recipe cards had more options on them.
Edible
This game is not all fun and games. Do keep in mind that there is a take that component to it, which can really mess with what another player is trying to do.
Bringing it all together
Hasty Baker is a fast, and adorable set collection style game. It is extremely portable with delightful art. It plays very quickly, and if you do not have an issue with take that play then this could be a great option for the holidays. I do with there was a bit more variety in the recipe cards, and I look forward to the addition of new ingredients down the road.
I prefer a hasty review
* Adorable Art
* Fast and portable, easy for all ages
* Has a some take that mechanics
* I would love to see more recipes in the future