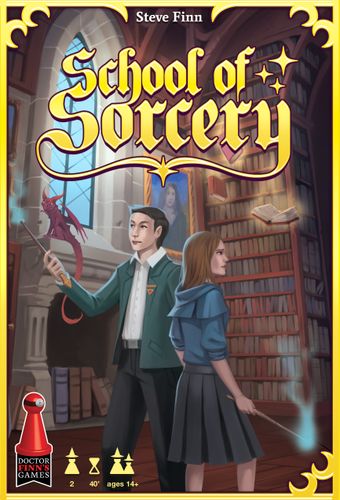 Before I begin I was sent a copy of the game in exchange for an honest review.  This is not a paid review. If you would rather watch a video of this review check it out below. You can get your own copy here.
Steve Finn holds a special place in my catalog of reviews and previews. Come October of this year I will have reviewed four of his games. That is more than any other designer, though Jonny Pac is just behind with 3, and he will be tied with Steve Finn whenever I get to review Coloma. Anyhow, the points is that I keep saying yes because Doctor Finn does something in his games that I greatly respect. He makes games that know exactly what they are, they do not try to do anything more.
Advert
What is that? Simple, quick games that are always more than the sum of their parts. He makes games that I always know that I can sit down and play with my wife, and we will have a good time. So when this game came up, the question became, would this be one that managed to fill a different space on the Doctor Finn, shelf or would it be the first that felt like a rehash?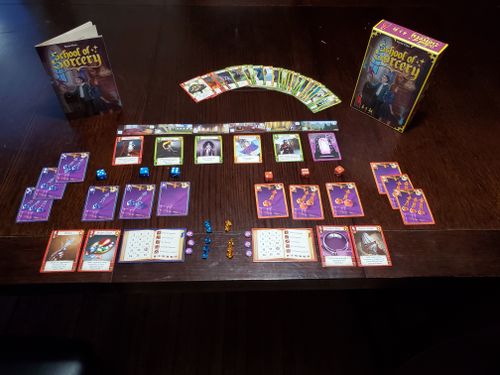 In school of Sorcery you are competing with another student to prove that you are the best student in the school.  To prove your dominance you will collect the most magical items, and befriend the most people in the school.  To do this you will use a combination of dice, and cards to bid crystals on the various cards available each round.  
Advert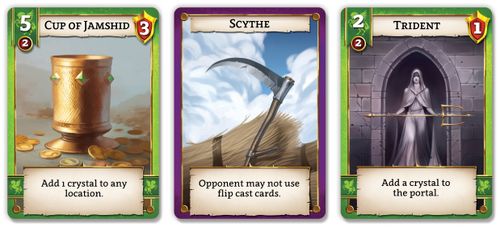 Each card is claimed by meeting the set number of crystals required, as listed on the card.  However, you must not only gather that many crystals, but you must meet the second card requirement which tells you how many more crystals you must have than your opponent.  When claimed each card either gives you an ability/bonus that is used immediately, once per game or each round.  Finally, each claimed card gives you a set amount of victory points.
The first player to break 13 points triggers the end game. Whichever player has the most points at the end is crowned the best sorcerer at the school.
Advert

So what do I think?
Delectable
Advert
The game is quick and simple to play, yet the bidding mechanics and the moderate amount of dice mitigation makes the possibilities each round huge. To me, there is something quite delightful about the combination of reading your opponent with your bids, combined with the tableau building and dice rolling that just makes me smile. Like with most of Dr. Finn's games there are no wasted actions in this game.
Tasty
The components are of good quality, the art is colorful and thematic. While the theme is definitely present, and it works, the game is certainly not oozing with theme.
Edible
This is a very light game, if you are looking for something crunchy you are not going to find it here. In fact, I do not think that you will find it in any Dr. Finn games. This is a quick, simple head to head game, that you will be able to play in about half an hour. As I often say, this is not a bad thing, just be aware.
Bringing it all together
School of Sorcery falls right in line with Dr. Finn's other games. If you are looking for a light head to head game that seamlessly combines dice rolling, tableau building and bidding that looks nice on the table, then look no further. If you are looking for something remotely crunchy, then look elsewhere.
I've read spell books shorter than that!
* Nice looking game, with components to match
* Quick, and simple game that seamlessly meshes basic tableau building, dice chucking, and bidding into a fun head to head game
* Nothing crunchy here, if you are looking for something remotely heavy keep moving
* Another strong addition to the Dr. Finn catalog