Before I begin I was provided a review copy in exchange for a honest review. This is not a paid review. If you would prefer to watch a video review of this game then check it out below. You can learn more about the game here.
I knew lots of nursery rhymes when I was growing up, Little Miss Muffet and her ridiculous tuffet, Little Jack Horner and his wandering thumb, to name a couple. One of the lesser known ones, was about a blackbird pie. It has to do with cutting the pie open and 24 Blackbirds flying out, and pecking off some poor woman's nose. No word on whether or not the baker got punished for putting whole, unplucked and uncooked birds in a pie for the king.
Advert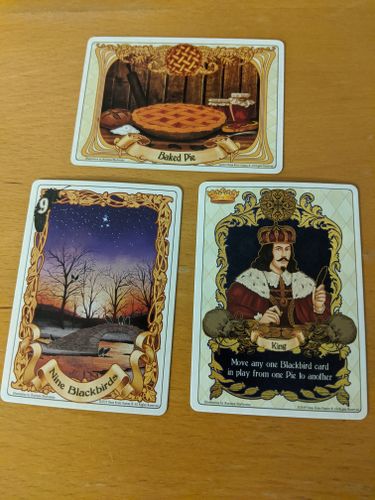 This is the setup for Six Pence Bakery. Between 2 and 6 players are racing to be the first to bake 3 pies of exactly 24 birds. To do this each player will play a card from their hand or the communal cards onto one of 4 pie tins. These cards all have between 1 and 9 birds on them (odd numbers only). Three of these tins are communal and the fourth is in your personal kitchen and is one use only. In addition to the bird cards there are four noble cards that have various effects, like removing birds or moving birds around. Each player can play one noble and one bird card per turn.
So what do I think?
Advert

The Good
This is a cute game that is perfect for an after dinner family game. I played with me niece several times. It incorporates basic math skills, which is great for younger ones, and though this game is simple it introduces ideas of hand management that can be hard to learn.
Advert

I also love the artwork of the blackbirds. They are beautiful. I can also never complain about a small box game that can fit in a handbag or backpack. I also have a soft spot in my heart for games that can be taught and played in under 20 minutes.
The Middle
Advert
I don't love the art of the people. It is fine, but compared to the bird cards it is lacking.
The Bad
There is nothing bad about this game. The only caution is that this is the simplest of games. Play it with people who have never gamed before, or with kids.
Bringing it all together
Six Pence Bakery is a simple, and fast game. It is easy to learn, has lovely art, and accomplishes what I think it sets out to do. As long as you keep in mind that this is really a game to play with younger gamers. This would be a wonderful game to have in a classroom for in door recess or after school clubs. My niece loved it!
I could have actually baked a pie faster than read that
*Very fast to learn and play
*Good art
*Perfect to play with family
*Good game to support early math skills