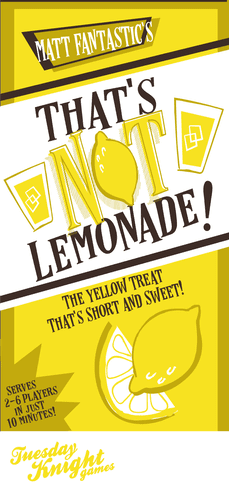 Before I begin, I was provided a review copy of the game in exchange for an honest review. This is not a paid review.
For those that prefer video reviews, you can see that below:
Advert
A buddy of mine has been raving about Tuesday Knight Games (the podcast) for a while now, though I had not gotten around to listening to it. He and I went to Origins this year, and while I was off interviewing a game designer he found the Tuesday Knight Games booth and got to meet Alan Gerding, the man the runs the show. When we met up again my buddy told me I had to come meet Alan.
So not being one to ever disappoint, don't ask my wife if that is true, I tottered on over and boy am I glad that I did. Not only is Alan a cool dude, but I got to try out multiple games. That's Not Lemonade being one of them. 
Advert

Before I talk about the game itself, just a quick word on the type of games Tuesday Knight Games puts out. They specialize in games for people who are not gamers, however, they are games that gamers will enjoy as well. Their games are simple, easy to learn and fast to play. They are also, blessedly, easy to transport home from a convention (looking at you Too Many Bones).
The premise behind Lemonade is that there are too many lemonade stands in the area, and you have all agreed to a competition to see who can drink the most of their own lemonade. The winner gets to stay, the losers have to hit the bricks. Unfortunately, little Johnny has taken it upon himself to add a little something special to the pitchers…something that is distinctly not lemonade. If you drink something that is not lemonade you are out.
Advert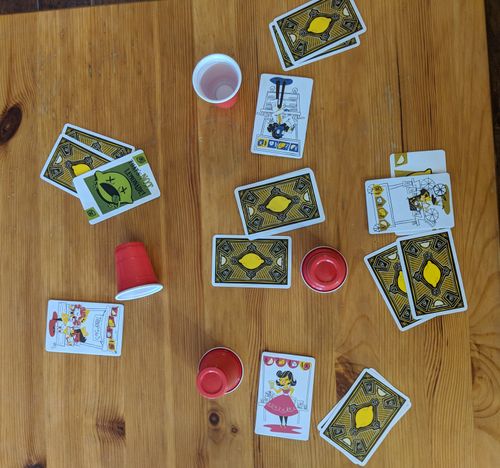 The game is a simple push your luck game where players take cards (shots of lemonade), until everyone passes, or everyone has gone out due to drinking something nasty (like diet Mello Yellow). If everyone passes you flip your cards and whomever has the most lemons wins the point (ice cubes are tie breakers). Passing or taking another hit is done with the miniature solo cups, turn it over to pass, flip it up to hit, knock it over to vomit. (Honestly, the game is almost worth getting just for the cups)
So what do I think?
Advert
The Good
I have to say that Tuesday Knight Games knows their business. It takes less than a minute to learn how to play this game, and at the very longest a game will take 10 minutes. The game is tight, clear and does exactly what it sets out to do. I did not have the opportunity, yet, to play this with non-gamers, but considering the amount of fun we gamers had playing, it is very promising. Let's talk components. The art of the cards is good, the character art is fun, each one has a different vibe to it. However, the coup de gras is the miniature solo cups. Often games will come with a completely unnecessary component, and this is no exception. You clearly do not need them, but man do I love them. They give just the right feel to the game, and considering how many people at the booth were asking if they were machine washable…they have plenty of use outside of the game.
However, above all the game is just fun. We laughed so much when we were playing it, in fact, it has already found its way into my bag for a trip I am taking this coming weekend to hang out with some non-gamers.
The Middle
I got nothing. If I had to try to nitpick, I guess I would say that the game is just a filler game. Though that is pretty much the point, I do not think any expects this game to be a full evenings activity.
The Bad

Better sleeve the cards. This is not because they are poor quality, but rather because I think it is pretty clear that this is a game that will come back out when folks are drinking (see earlier comment about the solo cups). It would be devastating to have the cards get ruined.
Bringing it all together

I am not able to capture in words how fun it is, this is a game that plays a million times better than it "talks". The ratio of laughs to game actions is so high. If you play this game and are not laughing something is terribly wrong. It is fast to learn, fast to set up, fast to play. This is a game that non-gamers can enjoy, and gamers can as well. You cannot go wrong here.
I would rather suck on a lemon than read all that
*Fast to play, set up, and learn
*For a simple game it is amazingly fun
*Perfect filler game, and a great way to introduce non-gamers to the push your luck mechanic
*Miniature solo cups. Need I say more?
*Cards should probably be sleeved to avoid damage
The Hungry Gamer Reviews That's Not Lemonade
Overall - 9
Portability - 10
Simplicity - 9
Art - 8
Components - 8
8.8
I would rather suck on a lemon than read all that *Fast to play, set up, and learn *For a simple game it is amazingly fun *Perfect filler game, and a great way to introduce non-gamers to the push your luck mechanic *Miniature solo cups. Need I say more? *Cards should probably be sleeved to avoid damage