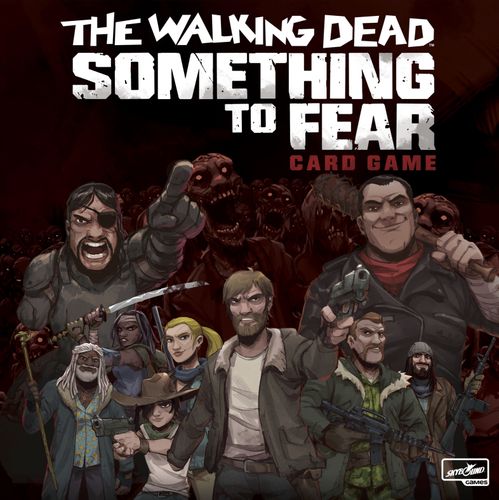 Before I begin, I was provided a review copy of this game in exchange for an honest review.  This is not a paid review. If you prefer to watch a video review of this game check it out below.
Truth be told, zombies are not my bag. If it is anything more serious than this joke-What do vegetarian zombies eat? GRAAAAAAAIIIIINNNSSS!- I am usually not interested. Yes, this makes me one of six people that does not know anything about the Walking Dead, beyond the fate of poor Glen, or is it Glenn?
Advert
That said, I was still pleasantly surprised and pleased when the game arrived for review. Why? First Skybound games always has good to great production quality, and second from the limited interaction I have had with the designers on social media they seem like genuine folks who are passionate about the hobby.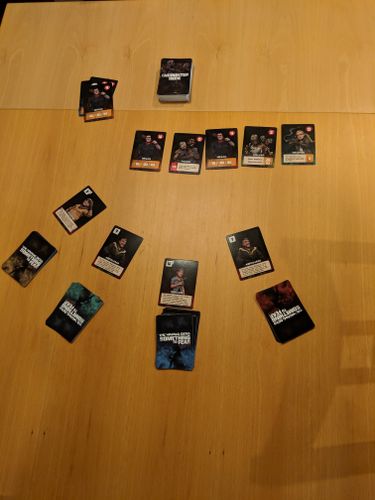 In any event, the game itself is quite simple. In this game each player has the same hand of nine cards. Each card has a number (1-9) and a power on it. On each turn players will play a card at the same time. The highest number card acts first and the player gets to claim a card from the market. The cards in market will give you points, an ability, or damage you, or some combination of the above. Then the next highest numbered card goes and so on. At the end of each round there will always be one card left over that will go into the "mob".

The core of the game revolves around utilizing the character powers to alter the market, or the collected cards of other players. This allows you to place cards into their stash that will hurt them, or steal cards that will help you. Once all players have played all their cards the game ends and you count up your points. However, this is where the twist comes.
Advert

After you total up your points, you see how much damage you have taken. You then add this to the points in the mob. If your total is 20 or more, you are out. Then the player with the highest score that is still remaining is the winner. Also, it goes without saying that if the mob has over 20 points in it, you all lose.
So what do I think?
Advert

The Good
The instructions on this game are simplicity itself. The rules are super clear, and the game is super simple to learn and play. Next I really enjoy the artwork. Now, I do not know if there was a licensing reason to not use stills from the show, or that was a choice, but I am SO HAPPY that they are using the cartoon-ish drawings. I love them.
Advert
The game play is very tight, and it is a FAST game. The box says 20-40 minutes…that might be a stretch. There are very few things to get hung up on, and this keeps analysis paralysis to a minimum. There are also a surprisingly large variety of choices to be made with only 9 character cards in your hand. What makes it work is the powers on the cards, they manage to make every single card have real value, if you manage to read your opponents right. The last time I played I lost several times with the "Highest" card because my opponent out thought me and the lower card power was the better play.
The Middle
The game plays 2-6. However, I think that the game is playable at two, but really it loses a fair amount. There is something about being able to, relatively simply, count your opponents cards, and easily track their stashes that takes something away from the game. Yet when you add additional players, that gets much harder, and it increases the chaos of the game, which to me, is fun. I do recognize that there are probably plenty of folks that prefer that kind of head to head play.
There is also a relatively limited amount of cards types for the mob, and market. There are walkers, walker hordes, saviors, the governer, Negan, Wounds, Supplies, and Weapons. That is it. It works, and keeps the game quick, but some more variety would be nice, which I am confident will come via expansions later on.
The Bad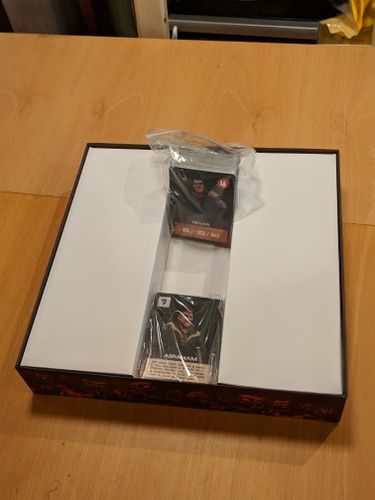 The box makes no sense. It is so much box, for so few components. In addition to that, the way the insert is made, it does not allow you to place the cards in, like you would in a deck box. It is just confusing to me. Perhaps, the idea is that they will be able to sell expansions and you can fit it all in there for a while.
Bringing it all together
This is a fast, extremely streamlined game that has more strategy to it than you might expect. I think the art is very good. The game is very different at two than it will be at higher player counts, and for me, I think it is a stronger offering at the higher player count. I do wish that there was a bit more variety in the cards you are collecting, though what is there is sufficient. The only real drawback is the box is an odd size for what comes in the game.
I don't have time to read all that with zombies chasing me!
* Tight, fast game that is more strategic than it seems at first glance
* Good art
* Bizarre box size, considering the game components
* Could use a little more card variety, but easily expandable later on
* Good game at 2, much better game at 4 or 5
* A perfect filler game at a game day
Art - 85%
Components - 70%
Complexity - 80%
Theme - 70%