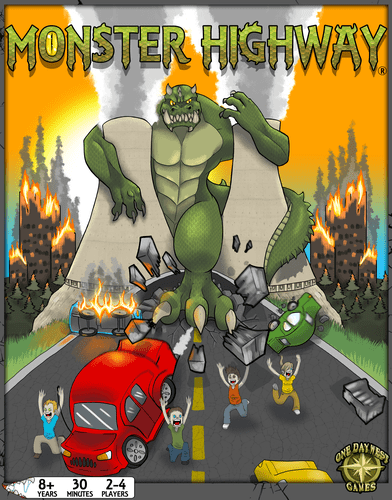 Before I begin, I was provided a copy of the game in exchange for an honest review.  This is not a paid review. If you would rather watch a video of this review you can check it out below, and get your own copy here.
Oh human hubris. What won't we do that will result in a horrible monster showing up and rampaging all about smashing and killing? Monster Highway is a game that is the end result of such hubris. Can you escape the monster and drive to safety?
Advert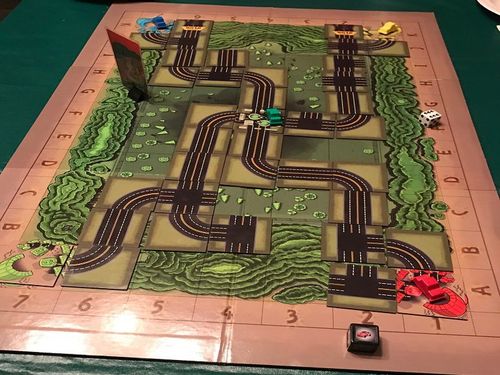 Each turn in Monster Highway you will roll the action dice. The dice will either let you move your car, lay a road tile (or play a variety of special tiles), or move the monster. If the monster lands on a car, then back you go to the start.
Players take turns laying tiles to make their way back to their corner of the board, and safety. This is the bulk of the game, but the aforementioned special tiles allow you to interact with the other players. Sometimes you will remove a road tile, stopping their progress, perhaps you swap tiles on the board, or place a dead end in front of them. The winner will be the first player who reaches their designated military base.
Advert

So what do I think?
Delectable
Advert
The game does a good job of making you feel like you are in a panic. You have no idea where the monster is going to show up, or what is going to happen with the other players potentially choosing to mess up your road rather than help their own. The components are cute as well.
The game is super simple to learn and play, and it is about the complexity of Parcheesi, maybe slightly more complex. That makes this game a great one for a family game night with non-gamers or kids.
Tasty
As I mentioned above, this is not a game for someone who is looking for anything remotely heavy, or really very strategic. Yes, there is some strategy to it, but it is so very luck based that strategy is low. You randomly find out what actions you can take each turn; when you are able to lay tiles they are randomly drawn; when you get to move, usually, how far is random; where the monster moves is usually random.
Edible
As is a theme with this review, this also is connected to what I said above. The game is all about luck, really, but this can lead to some really bad experiences. I have played and spent multiple turns where I literally could not do anything, because I was unable to lay any tiles, and moving was useless. Additionally, we found that it is actually possible to make it all but impossible for a player to win. Last time we played I managed to block all the roads to my opponents base, and they were left with just waiting to draw a tile that would let them open the path.
Bringing it all together
Monster Highway is a super light, quick family style game in the classic sense. It really reminds me of playing games like Sorry, and Parcheesi as a kid, yet at the same time there is just a bit more complexity to make it enjoyable for someone who plays more games. The game is EXTREMELY luck dependent, and it is possible to spend turns feeling like you can't do anything because of this. The artwork is cute, and board looks good on the table, and is a wonderful option if you are looking for something along the lines of those classic games…just better.
No time to read! MONSTER!!!
* Very fast to learn and play. Anyone can pick this game up
* Looks good on the table
* Feels like one of those classic board games, but with just a touch of modernity to make it more enjoyable and interesting
* Supremely luck driven
* You can have turns where it feels like you cannot do anything
* Great option for kids